We asked our friends for list of 10 things they hate about their kitchen and this is what we recieved. Keep in mind, they were not writing about their Kitchen Magic kitchen!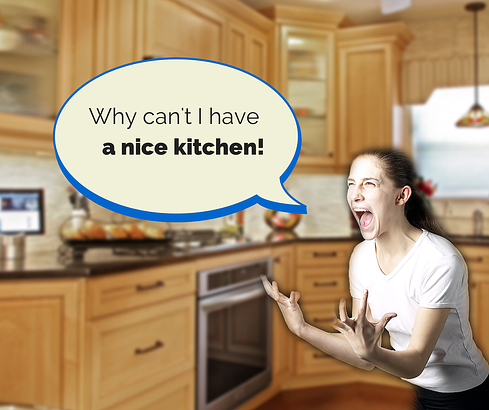 10 Things I Hate About My Kitchen

1) Having the fridge on the bottom. Does my back look like a semicircular curve to you? Why 'fridge on top' hasn't become standard is beyond me. Bending is painful and fridges get opened more regularly.

2) No back up electricity for fridge in case of black out. Yes, I wanted to save money on the cost of my fridge. No, I do not want my food to go bad in a black out.

3) Not enough lazy susans. How many times has kitchen cabinet stuff fallen on you while you try to get at something stashed in the back? Can't remember how many times? Exactly.

4) No lazy susans in fridges. Food even in fridges goes bad. Maybe you forgot about all that delicious grub because it's stashed in the back. More and more tasty eatins' got stashed in the front, and by the time you got to forgotten food of yesteryear you don't want to touch it. I can hear my mother say I mold you so—I mean I told you so.

5) Meat germ. An OCD's germophobe's worst nightmare. After touching raw meat, if I grab the liquid soap to wash my hands, the liquid soap bottle gets contaminated. It gets worse.

I like to boil my meat. While pouring water on my raw meat the water hits the meat and splashes onto my clothes and surrounding area. Now I have to clean up and change. (Get an apron—I hear you say. Well, aprons don't cover the bottom of my pants or shoes.)

6) Bugs. Nothing is more disgusting than a bug trap near food. Except the bug. My hands get washed more times than I care to count after touching bug traps (yes, I hold them with paper towers and I still wash my hands multiple times).

Remember, you're the boss of the house and no bug is going to take charge while you're around. Now repeat that last sentence 10 times. Maybe it'll sink in.

7) Paper towels versus rags. If you're loaded and love to waste your cash on endless amounts of paper towels; sure go ahead and use a roll or 8. I may not be rich, but I admit that I'm a paper towel addict. Therapy may not cure my addiction, but at least they're sanitary. Every once in a while I remember I can't break the bank, so I use a rag/towel to pick up crud. So now my towels get permanently stained instead.

8) Dirty sponges scare me. All I can think of is everywhere it's been and what it has touched. Alternatives? I can spray with cleaner and wipe with paper towels. And while I just love to waste money with this method, it doesn't do a thorough enough job. Stubborn crud is still stuck to my counters and tables.

So the sponge cries out to me. I try to designate different sponges, one for dishes, and others for counter tops. However, until my memory jogs a bit faster, I'll mix the two up and I certainly don't want to contaminate and mix what was wiped off the counters onto my dishes.

Before you shout—clean your sponges, I do—really, but sponges are a pain to clean really well. And if they're not cleaned right away they have a point of no return where they're permanently encrusted by the crud you forgot to clean.

9) Dishwasher Load Times. Call me paranoid, but my lonely dishwasher doesn't like to be left by itself. Call it a safety procedure. Headache inducing noise for 45 minutes and that's the short cycle.

10) Dishwasher Crud Remainders. Cleaning the crud at the bottom of a dishwasher after a cycle. Yes, I scrape plates before dishwasher use. FYI—The water in your old pipes and town make a huge difference with this. Besides bending and squirming my way into the dishwasher (before you ask, I exercise regularly and this position is at best awkward, at worst painful.) It's not just the dishwasher seems perpetually dirty before running. No, puddles of crud seem to get into and on cups and mugs especially. (A little elbow grease or old fashioned hand power to save the day, or make my day even longer and have even less time than I already had.)

I don't know about yours, but my dishwasher needs TLC. A special screwdriver to take a detachable compartment that holds secrets. Secrets, or rather the accumulating collection of eroding mold and various types and classifications of grossness that have built up. That's the last time I use that sponge.
Anyway, we trust you enjoyed reading about our friends' problems, and perhaps got some ideas for things to consider when it's time to remodel your kitchen. Of course, when that time comes, we hope you'll call us! What do you hate about your kitchen? Please tell us in the comments field below.