Bamboo Cabinet Doors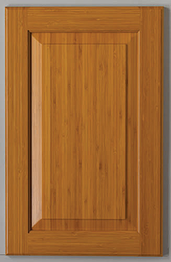 Thinking about refacing or remodeling your kitchen, but deeply concerned with the environment and using renewable resources? Consider bamboo doors, such as the one seen at right, as the "green" alternative.
Bamboo grows faster than hardwood, and when harvested, lives on and grows back; trees such as oak are killed when they're cut. A 60-foot bamboo plant takes 60 days to replace; a 60-foot oak tree takes 60 years.
Not only is bamboo more ecologically responsible, but is stronger than oak and much more resistant to moisture or warping. And let's not forget...it's beautiful!
while you are here, check out our attractive line of bamboo door styles. If you like what you see, call us at 1-855-5-REFACE for a free hour of expert advice and to find out how affordable a "green" kitchen remodel can be. You'll be glad you did!