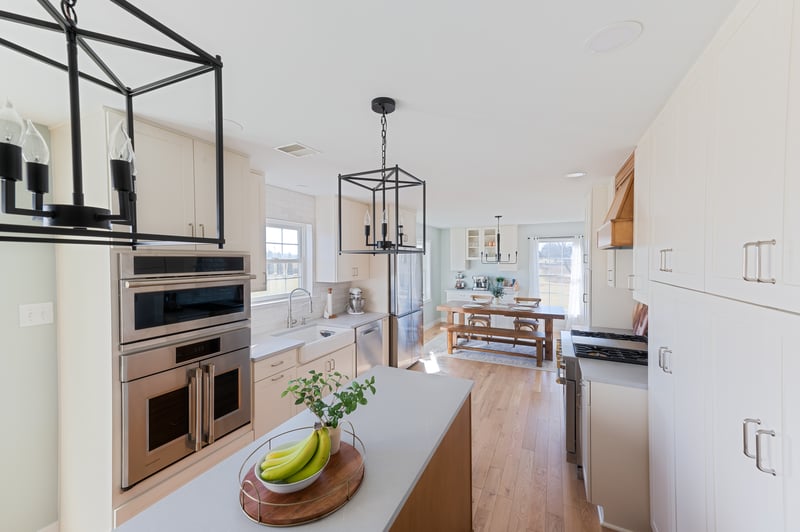 What are your kitchen goals? Would you like to create a warm and inviting aesthetic for entertaining? How about creating more functionality for your next world-class, home-cooked meal? More importantly, how do you do this if you're either on a budget or don't want to completely recreate your living space? Believe it or not, lighting is an often-overlooked element of the kitchen. However, ample and purposeful lighting helps to set the mood, accentuates décor, and enhances the overall look and feel of the space. And with so many options available in the market, choosing the right lighting for a kitchen can be a daunting task.
Factors to Consider
Curious where to start? Let's begin by showing you some top factors to consider when selecting lighting for your kitchen.
Task Lighting: Consider yourself a foodie? Every skilled chef needs a workspace that matches the most demanding needs. Task lighting is essential for performing specific tasks such as cooking, washing dishes, or preparing food. Task lighting works best when it's bright and direct as well as placed in areas where you need it the most, such as over your countertops, sink, and stove.
Ambient Lighting: Set the scene with ambient lighting, serving a general but important purpose in your kitchen. Making sure your living space is well-lit and navigable, this lighting is commonly achieved through ceiling fixtures, wall sconces, or recessed lighting.
Natural Light: A perfect example of bringing the outdoors in, natural lighting is an important factor to consider for your next remodel. From skylights to floor-to-ceiling windows, natural light allows your kitchen to feel warm and inviting and is an energy-efficient option as reliance on artificial light is reduced. Pairing natural light with the color scheme of your kitchen can create an elevated and stylish effect.
Color Temperature: The color temperature of lighting you choose will be sure to impact the look and feel of your kitchen. Warmer white lights (2700K-3000K) give off an inviting atmosphere, perfect for entertainers looking to add a bit more ambience into their living space. Alternatively, cooler white lights (5000-6500K) provide more energy and brighter light, perfect for the active cook or those that consider their kitchen as a workspace, needing more functional light
Energy Efficiency: Conserving your energy? LED lights are a great option if you're looking to take more energy-efficient decisions in your kitchen as they help to reduce energy usage, are long lasting, and do not produce as much heat as traditional light bulbs
Style: What are your design goals for your remodel? Traditional? Contemporary? Modern? Incorporating styles of lights into your remodel can help to accentuate aesthetic preferences. While a chandelier or classic pendant light may benefit a traditional kitchen, sleek and minimalistic fixtures will benefit a modern kitchen.
Considering these factors for your next remodel can help you to not only create a well-lit kitchen that functions based on your needs but also matches your stylistic preferences.
What are your options?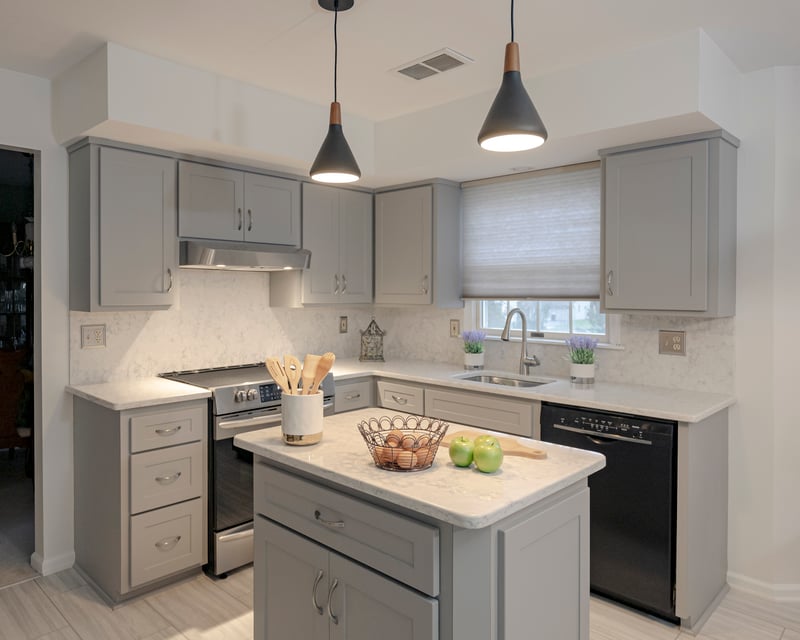 You might be curious, though, what exactly are your options for lighting? And bringing together the factors from our previous section, we can look at some popular options:
Recessed Lighting: Perfect for illuminating your entire kitchen, recessed lighting offers a modern look and creates an ambient space. By placing these lights in the ceiling, you're able to highlight specific areas of your living space or certain features.
Pendant Lighting: If you're looking to bridge functionality and design, consider pendant lighting. Key features include a high-hanging light with a decorative touch, offering task lighting and necessary illumination over islands, sink areas, or a dining area. Pendant lighting is also versatile as they come in a multitude of shapes, sizes, and styles.
Chandeliers: Looking to add a little elegance and sophistication to your kitchen? Or maybe you're interested in designing a traditional look and feel in your kitchen. Chandeliers provide this traditional aesthetic and pair great with higher ceilings, offering a focal point for your kitchen.
Under-Cabinet Lighting: Perfect for accenting elements of your kitchen, from your countertops, backsplash to your cabinets, under-cabinet lighting adds a warm glow to your kitchen and in some cases can also serve as additional task lighting.
Track Lighting: Perhaps instead of highlighting key features of your kitchen, you'd rather highlight specific, entire areas of your kitchen. Track lighting is a versatile option that provides you with the option to direct light exactly where it's needed in your living space.
Wall Sconces: For the art-inspired homeowner, wall sconces can be used to feature anything from decorative elements to artwork or cabinetry.
Strip Lighting: A flexible option, strip lighting can be utilized to illuminate harder to reach areas or create ambient lighting.
Lighting Trends
While lighting is only one element, it's important to consider that lighting can be very accentual to the rest of your remodel. Consider the color of your kitchen's walls. Lighter walls will create a brighter space that will pair well with cooler temperature lighting. Glass cabinetry doors and shelving paired with proper lighting allows you the most visual freedom in your living space. It's also vital to consider your natural lighting options. Anything from windows, glass doors, accordion doors, skylights, and light tubes are terrific ways to bring the outdoors in and allow you to connect more with your surroundings. For those looking for a more traditional feel, chandeliers and particular pendant lighting have become low maintenance options, showcasing unique shapes where lighting elements are housed in the actual designs of the chandelier. As lighting also gets more minimalistic, we're now seeing modern shapes with natural materials. Lighting in itself is becoming not only a focal point of the kitchen, but a further example of personal, artistic and design-influenced expression for your next remodel.