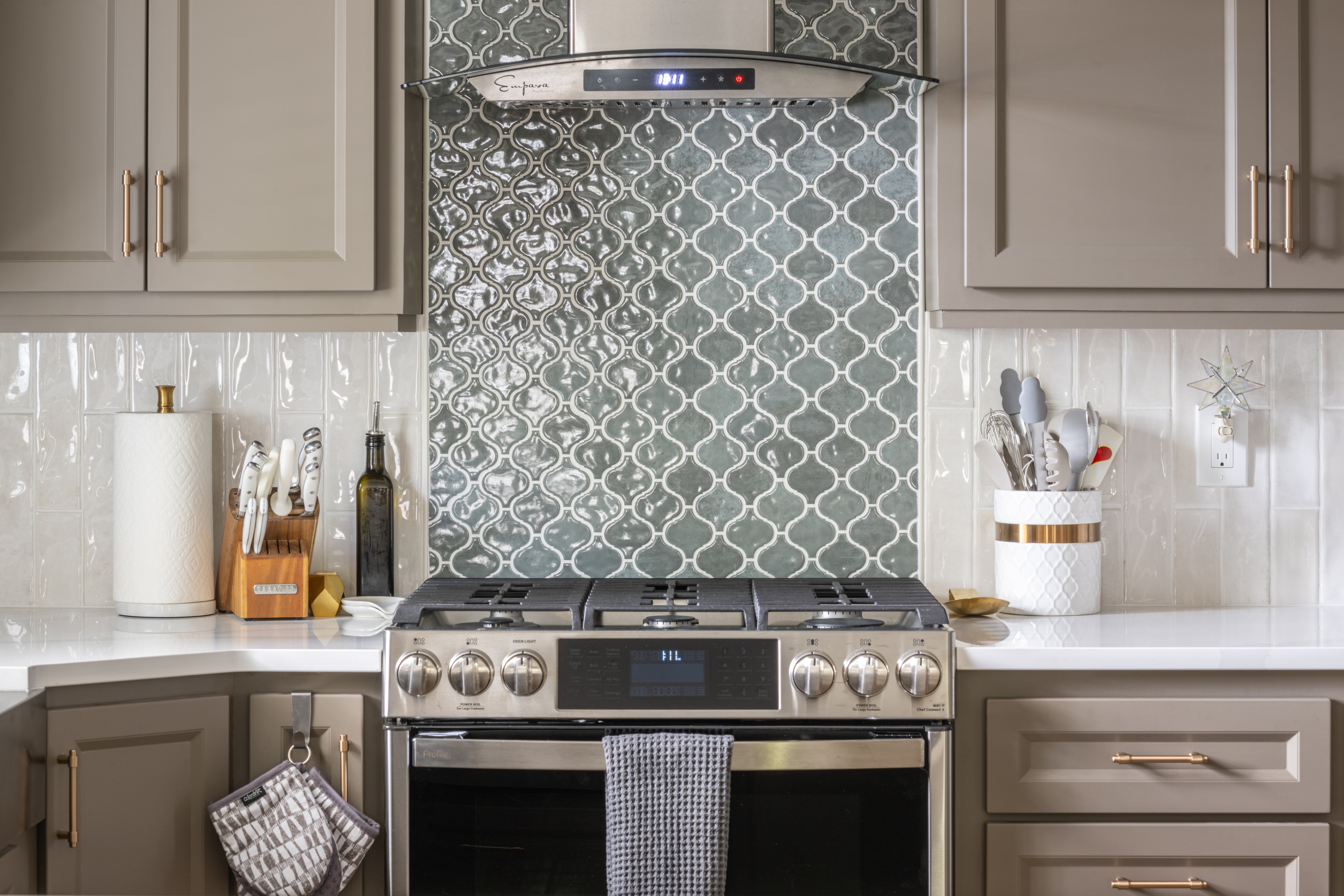 A kitchen remodel is a big undertaking as you are making an investment not only in your home but also in future memories.
Trends show us that when it comes to their kitchens, homeowners are investing in the future. In fact, the 2023 Cost v. Value report conducted by Remodeling Magazine finds that a minor kitchen remodel (this includes refacing) averages a return on your investment of 85.7% at resale, a number that has consistently increased over the past 10 years.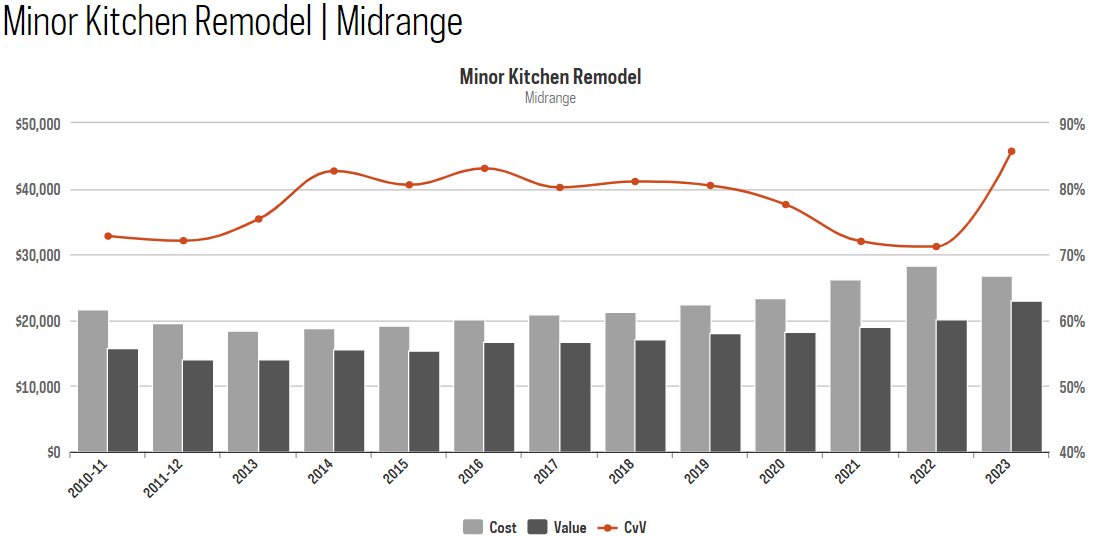 Additionally, a survey conducted with over 46,000 homeowners found that 3 in 5 stated that they planned to stay in their home for 11 years or more following their renovation. Homeowners are investing in the future, with an understanding that kitchens are so much more than a place to cook food but make memories that last a lifetime.
But that begs the question, where do you start?
If you are at a loss with your kitchen remodeling research, don't worry you're not alone. The path to your dream kitchen can seem like a long journey. But it's important to remember that any expedition begins with one single step. That is exactly why you are here, to learn more about your options.
There, we will share information and insight into one of the most cost-effective, sustainable, and state-of-the-art kitchen remodeling services: Cabinet Refacing.
So, what is cabinet refacing and what could it mean for your next remodel? Let's dig in.
Cabinet refacing is a perfect example of how far technology has come with regard to kitchen remodeling. The products and process of refacing have been engineered to make your life easier. But what exactly is refacing?
Cabinet refacing can best be described as a facelift where the "good bones" of your kitchen are used as the starting point for a structure and style upgrade to the style of your kitchen. T­he process of refacing your kitchen will vary depending on the company you use (or if you decide to go the DIY route), the following is a general step-by-step guide:
Cabinet doors and drawer fronts are removed.

The cabinet frames are sanded down to a fresh wood surface.

Laminate (and in some cases a ¼" luan plywood subsurface) is applied.

New accessories, trim, doors, and drawer fronts are installed.
It's also important to note that the steps are not always identical, depending on your kitchen's needs or the craftsperson you work with. For example, instead of sanding cabinets down, some refacers may apply a 1/4" plywood material on all sides of the cabinets prior to applying the final veneer surface. This added layer reinforces the structure of your cabinets. That process will also add a 1/4" layer to your cabinetry and that layer, while inconspicuous, will be visible when opening your cabinet doors. Whether or not this additional surface is applied depends on the type of cabinetry and, of course, personal preference.
Is it something I can do myself?
DIY projects are great for the proactive homeowner. With a vast library of knowledge online about an assortment of home improvement projects, it's conceivable that you may be interested in taking refacing on by yourself. This, however, is not recommended. While refacing is a relatively straight-forward process, it is also one that requires a skilled professional touch.
When it comes to any home improvement project, there are multiple factors that may potentially arise.
First, consider the complexity of the project. No two homes are alike; each comes with its own unique needs and challenges that will impact the difficulty level of the project. Refacing involves removing and replacing kitchen doors, applying a decorative veneer, and installing new hardware. Each of these steps require precision to achieve a polished, top-quality result. It also requires specialized tools and equipment such as a cabinet table saw, pneumatic stapler, and adhesives. Depending on your DIY experience or tool inventory, this can add to the budget of your project.
It is also worth noting that choosing a trustworthy company will mean a convenient, efficient, and cost-effective project. DIY projects can be time consuming and can lead to expensive mistakes if it is a first-time undertaking. In the long run, focusing DIY efforts on more straightforward, stress-free projects is wise. Remember, a kitchen remodel gone astray can be very disruptive to day-to-day life.
In the case of cabinet refacing, choosing a proven expert is the least expensive in the long run, not to mention the headaches and frustration avoided. Choose to focus efforts on selecting the best experts to assess your needs and add value to your home with a beautiful result.
What is refacing not? Common Myths
While we are confident in the benefits of cabinet refacing, we also understand that something unfamiliar can come with a healthy amount of doubt and skepticism. In fact, refacing has always had myths and misconceptions around the process such as: "it's just a contact paper being applied" and "it's a quick fix."
To clear that point up, rest assured that refacing involves the use of engineered decorative overlay materials that create a permanent solution. In fact, when installed by a skilled craftsperson, refacing can last a lifetime. James Mayers, Manager of Continuous Improvement and Compliance here at Kitchen Magic, had this to say about these myths:
"We've had kitchens we refaced over thirty years ago that still look like we just walked out of there yesterday…It really is an easy to maintain, long-lasting solution for your kitchen."
This longevity can be attributed to the rubber and water-based adhesive used to apply the veneer. Regular glues lose their effectiveness over time; however, this adhesive gets stronger, ensuring the lamination stays intact.
When considering a reface, check with your craftsperson or designer on the type of adhesive they use. Just as technology is advancing in so many aspects of our lives to make everything not only better but easier, the advancements of the products used in refacing has advanced to the point where different composite materials are superior in quality, less expensive, more durable, and easier to maintain compared to a lot of the other solutions out there on the market.
Factoring the Costs
When it comes to any home renovation project, one of your first thoughts might be, "
How much will this cost?"
Luckily with refacing, you are afforded the luxury of a stress-free, more affordable way to refresh your kitchen while knowing it will hold up well over time.
Keeping these major factors in mind when looking at a kitchen remodel can help put things into perspective:
Are you planning on refacing or replacing your cabinets or redoing your countertop or backsplash?

What materials are you looking to work with? (For instance, a laminate countertop and backsplash will be less expensive than wood, quartz, or tile)
The typical cost to reface an average sized kitchen (about 25 cabinet units) will save thousands of dollars as compared to all new cabinetry, depending on the materials you choose.
Kitchen Magic manufactures two lines of cabinetry, the Barwen and Classic lines. Barwen cabinetry is an affordable replacement cabinetry option, with a high-density particle board construction, and available in limited colors. The Classic line is our original line of custom manufactured cabinetry, built from a ¾" North American birch ply.
The cost of refacing or new cabinetry is also influenced by the door style and construction you select.
Adding a backsplash and countertop in the case of new cabinetry will land add several thousand dollars each to your project.
Quality and Brand Names
Variables abound when it comes to the options for your kitchen remodel, including the countertop and backsplash products and color series you choose.
Remember, the higher the grade or brand of materials you choose and the more 'bells and whistles,' such as storage and decorative accessories you add, the more your cost will increase.
This is where the guidance of a kitchen expert, who will help you navigate your choices and decisions, is so crucial.
Are there downsides to refacing?
At this point, you might be curious about the worst-case scenarios with refacing. It's worth noting that doing your research and finding a trustworthy company to do any kind of home-improvement work in your home is the leading important factor that will influence the quality and longevity of the result.
Here are top areas where potential errors come into play:
Poor craftsmanship.

Unprofessional work can leave your kitchen worse off than when you started. Refacing deals primarily with new doors and surfaces and improper installation in any step in the process can lead to crooked panels, uneven surfaces or ill-fitted doors or drawers.

Materials:

What kind of materials is your contractor using for your refacing project? Using anything but the best when it comes to something as quality dependent as cabinet refacing can run the risk of durability issues and a short lifespan. Subpar materials like cheap veneers or low-grade laminates will have a tremendous impact.

Workmanship or product reliability:

A flaw in workmanship that can appear well-after installation is visible bubbling or peeling of veneers. Improper installation or the usage of a low-quality adhesive can cause this issue, compromising the aesthetics and integrity of the finished product, not to mention how upsetting this problem can be to a homeowner.

Measuring

Up:

Make sure your contractor can measure up to your expectations. Before going with any contractor for refacing work, it's important to do research online, check reviews, ask for evidence of well-done work in their past such as a portfolio as well as references and accreditations. Missed steps during your planning phase can result in disappointment in the outcome including in ill-fitting doors, drawers, panels, or unprofessional looking gaps or overlaps.
These are some of the more common concerns and mistakes that can arise out of unprofessional work, but the list goes on to include poor customer service, lack of responsiveness or unfinished details at the conclusion of your project. In short, the challenges you face can very much depend on who you decide to work with.
Refacing is a versatile service that, if done right, will last you a lifetime, with timeless style and quality.
Timeline
When it comes to any remodeling service, as a homeowner, you want the streamlined process in the industry. A home improvement project should combine two benefits: exceptional quality and a reasonable project timeline. One of the allures of refacing is how easily it can deliver on both of those.
A full remodel can leave you without a kitchen for 4-6 weeks while refacing is typically completed in just 3-5 days of installation time. Note: this period will be extended if you are also getting a new countertop, backsplash, and/or floor.
When you have the benefit of a project timeline where installers can be in and out of your home in less than a week, this means:
Less Disruption:

Reduced

downtime with an unusable kitchen and disrupted life

.

Regain full kitchen functionality and get back to life more quickly.

Convenience:

Easier

access to essential kitchen items during the project.

Less Stress:

Faster

completion can alleviate the anxiety associated with a major renovation. Less Dust and

Mess:

With

a shorter project timeline dust accumulation and debris are minimized. Cleanup during and after the project is far easier.

Peace of Mind:

Rest

easy knowing that the project will progress quickly and smoothly, not to mention reduced uncertainty about timelines and project delays.
What Else is Possible with Refacing?
Refacing offers options far beyond just the refacing product itself. If you can dream it, we can do it and customize endless options from storage and organization solutions to additional cabinetry or decorative accessories.
In fact, refacing offers options that allow you to completely recreate your kitchen space, all thanks to these options, particularly accessories. Accessories are a popular addition to refacing projects that allow you to get additional space and organization into your kitchen without the hassle and stress of a full remodel.
Unclutter with organizer inserts for pots, pans, and cutlery, or keep your trash hidden with slide-out trash inserts. Anything from shelving to gentle close slam-proof hinges are at your disposal.
If you are looking for more, there is also always the possibility to further add on to your project with additional cabinetry, a pantry, or even an island if space allows.
Debating between refacing or a remodel?
The best way to determine the wisest choice for you is to have a kitchen remodeling expert look at your cabinets, assess the condition they are in and make a professional recommendation.
Most kitchens simply have wear and tear from time and living while their boxes are intact and have 'good bones.' If that's the case, refacing is a perfect option. With refacing, what you are getting is a stylish and complete transformation. On the other hand, if your cabinet boxes are unstable or damaged, or if you want to completely alter the footprint of your existing cabinetry, it may be better to consider a full remodel, remove your old cabinet boxes and countertop and start all-new.
A general rule of thumb is the better quality of your existing cabinetry, the more likely that refacing is the way to go. It will differ from kitchen to kitchen and getting expert advice is the best first step.
Will I need a permit if I reface?
That is a great question! Permits are a less obvious but very important consideration. The permitting process (as many homeowners have experienced) adds time and cost to your project and may impact your taxes by triggering an assessment of a higher property value. Typically, no permit is required with refacing because the original footprint of your kitchen will not be disturbed. If your project is more involved, however, check with your local municipality.
Conclusion
It's important to note that cabinet refacing has advanced and offers much growth in the future as an affordable solution. The beautiful, decorative high-definition veneers used in refacing are a versatile option for a budget friendly, permanent solution for your next kitchen remodel, and a smart alternative solution to more traditional kitchen remodeling services.
When it comes to your next remodel, a quality job will come from diligent research, planning, and finding a kitchen professional with years of experience who can offer you exactly what you're looking for. So, when considering ant type of kitchen remodel, it's important to understand your options and the differences so for the best possible outcome.
Now that you're better equipped in all things refacing, and know the major aspect of this process, consider if it's the right option for your kitchen.
Are you ready to design the kitchen of your dreams? Start with Free Advice!
Contact Kitchen Magic today to schedule a free in-home consultation.
We strive to create aesthetically stunning kitchens with practicality and functionality in mind.
Give us a call at 800.272.5490 or visit kitchenmagic.com to request your free design consultation today!