Common Misconceptions about Cabinet Refacing
"Cabinet refacing is just professional cabinet painting, isn't it?"
"Cabinet refacing is too expensive. I can replace my cabinets for less."
"I don't have the time for cabinet refacing. My contractor told me he can tear out and replace my kitchen cabinets faster."
"Refacing uses laminate, right? That stuff looks like plastic. Besides, I want-wood stained cabinets."
Homeowners often have preconceived notions about remodeling processes such as cabinet refacing. A lot of these ideas are incorrect and can lead you to accidentally select the wrong option for your remodeling needs and budget.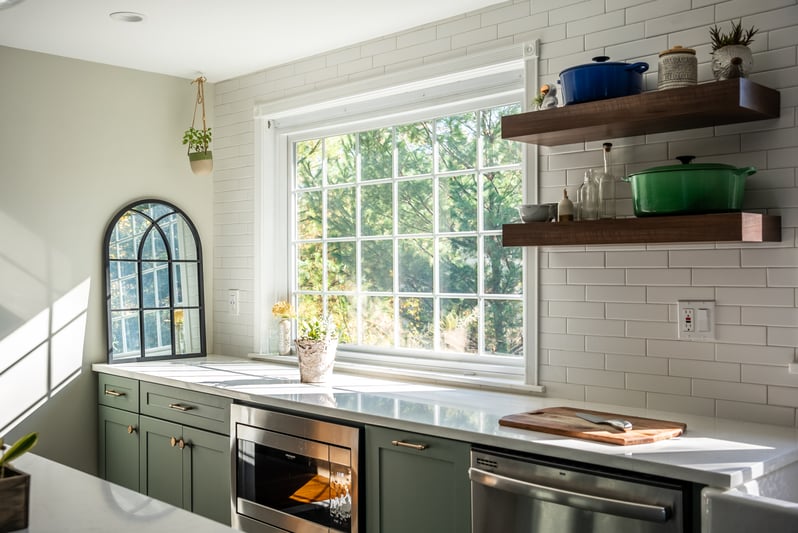 Refacing is Painting
The refacing process doesn't involve any painting whatsoever. Instead, a cabinet refacing company removes all of your existing drawer or false fronts, cabinet doors and hardware, attaches a thin wood substrate and laminate or wood veneer to the cabinet framework and then finishes the process by installing new matching fronts, doors and hardware.
Refacing is Expensive
Because a cabinet refacer uses the framework of existing cabinets, you don't need to pay for construction permits, cabinetry removal, construction or new cabinet installation.
In fact, cabinet refacing can usually save you up to 50 percent of what you would have spent on replacing your cabinets, as most of the original cabinetry is preserved in the process.
Refacing is Time Consuming
A cabinet refacing project doesn't require that you wait for permits before beginning installation.
In addition, refacing materials take less time to install and installation doesn't involve the type of wall work that can result in discovering surprise electrical or water lines and cause delays. Instead of a project taking weeks, a cabinet refacer can usually reface your cabinets in three to five days.
Refacing Material is Plastic Laminate
Although high quality laminates are a commonly used refacing material, modern laminate doesn't look like plastic. In fact, laminate is often constructed to look like a painted surface or real wood.
Professional refacing companies also offer real natural wood options that can be stained and glazed almost any way you want, and natural wood selections contain variations in coloration and grain patterns making each piece of refacing material, front or door unique and different from any other in your home.
Now that you have a better idea about cabinet refacing misconceptions, it's time to consider it as a viable option for your remodeling needs. Check out the "Cabinet Refacing" page in the menu at the top of this page for more information.
If you still have questions about what cabinet refacing entails, check out our video below for a full explanation.