Whether one is a full blown environmentalist or simply concerned about the excesses of modern culture, most of us agree with the sentiment, "It's a shame to waste." Even with all the natural resources and landfill space preserved by refacing cabinets, many of us are still concerned about the doors. Sometimes we trash some otherwise good doors because they no longer work with our desired kitchen design. If you've been feeling a little tinge of guilt about discarding your old kitchen cabinet doors, we are about to share some ideas with you that are sure to bring a little inner solace. Best of all, these fun projects may coax your kids into helping you with your home improvement endeavors. And in less time than it takes to play an average video game.
How about an "Upcycled" Headboard?
Ann Siper, a contributor for Yahoo! Voices wrote the following in her article about eco-friendly crafts, "For a simple upcycled wood headboard; sand, prime, and paint out a few cabinet doors. Once the paint dries attach them together using flat metal brackets on the back. Make this as wide as your bed. Hang on the wall above your bed to act as a headboard."
Sometimes the doors may still be in good enough shape that you don't even need to sand and paint them. This is especially useful if you've been delaying a kitchen remodel because of a sentimental attachment to your original kitchen design. This will give you an opportunity to preserve a piece of your kitchen's history in another room of your home. Of course we hope that having old kitchen cabinet doors above one's bed does not lead to uncanny urges for midnight snacking.
Image via Remodelaholic.com
Decorative Bulletin Boards for Your Home Office?
Even after we've purchased the most up-to-date computers and upgraded to the latest smart phones, we still can't get away from good old fashioned office bulletin boards. There are few better ways to help keep our minds organized than with a magnetic bulletin board. The folks at savingthefamilymoney.com teach us how to convert used kitchen cabinet doors into useful bulletin boards just by adding some thin sheet metal and a piece of decorative fabric. Then simply fill it with some to do lists, pictures and important papers and you'll have the ultimate home or office organizer.
How about a Family Portrait Frame?
Can you imagine using your old kitchen cabinet doors to make classy portrait frames? A simple web search will reveal how others have done this amazingly well. For the ultimate preservation of memories, consider using your cabinet door portrait frame to house a picture of your old kitchen. That's right, a picture of your old cabinet doors on one of your old cabinet doors!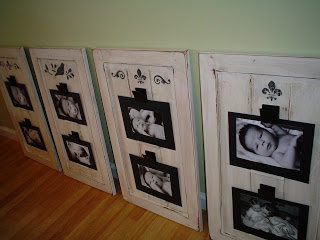 Image via Dukes&Duchesses
Share Your Treasures
Have other ideas? Get creative! Perhaps a lean two or dog house for your dog? Since dogs love spending time trying to get into their owners' kitchen cabinets, they should feel right at home in a structure made mostly of kitchen cabinet doors. Perhaps your kids or grandkids will want to build a fort in the backyard. Do kids still build forts these days?
We would love to post pictures of your crafts and innovations. If you have made anything interesting with your old kitchen cabinet doors please let us know or share in the comments below.