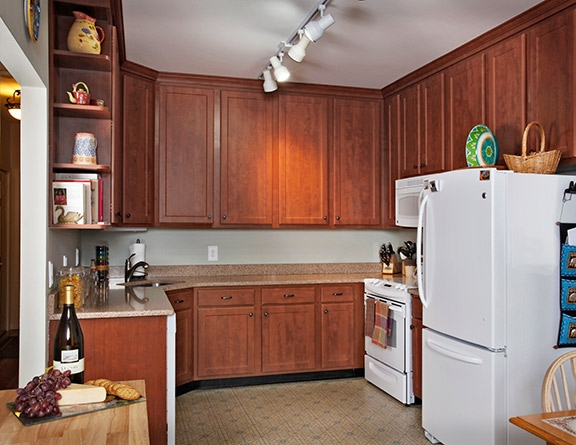 As the holidays approach and you prepare for the gathering of family and friends in your home, you want to create a kitchen environment that speaks not only to your personal taste, but is also warm and inviting. Whatever your cabinet style and color choices, they can lose their original appeal if the cabinet hardware doesn't match your selections or the kitchen's overall theme.
Consider these two popular hardware and cabinet combinations to help you create the ideal kitchen for the holidays:
Country or Rustic Themes
One of the most popular kitchen hardware and cabinet combinations this winter in country or rustic themed kitchens is black hardware on standard reveal or full overlay cabinet fronts in a variety of styles including Yardley, Amesbury and customized options such as "barn-door." Cabinet colorations include oak, walnut or cherry stains that highlight the knots and marks on natural wood; and solid light or dark colored paints such as moss green, blue-grey, royal blue and apple red refinished using distressed techniques to create the illusion of age.
Hardware: Consider over-sized black wrought iron knobs and handles accented with hammer peen or forge marks, or smaller hardware accented with scroll- or rope-styles, for your country or rustic kitchen. These styles match people's expectations for this type of theme and help to bring together all kitchen cabinet elements.
Modern Themes
A popular kitchen hardware and cabinet combination for modern themed kitchens is nickel or stainless steel hardware on full overlay cabinet fronts in flat slab styles with or without recessed panel sections. Cabinet color choices vary, but typically focus on a single solid light or dark color throughout, such as white or dark chocolate, accented elsewhere in the kitchen by an opposite spectrum or bright contrasting color.
Hardware: Consider short or long non-decorative smooth and geometric -- rounded, straight-bar or T-style -- nickel or stainless steel knobs and handles. The styles both match expectations for a modern theme and offer different color contrast options: nickel and stainless steel blend perfectly with light colored cabinets and can provide a stark primary contrast to dark ones.