The kitchen sink is one of the most important features in the kitchen, and usually serves as the focal point for food preparation and cleaning. When deciding on a new kitchen sink, the options are endless in terms of style and material, making it possible for everyone to find the sink that fits best within personal taste, amount of use and budget.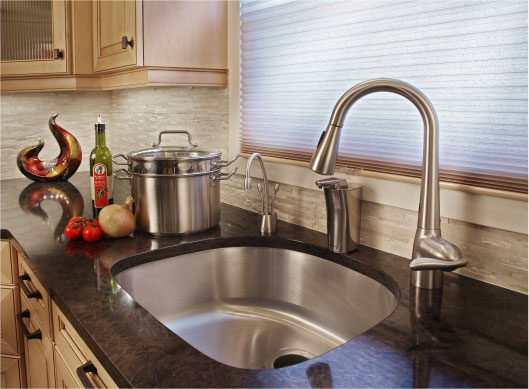 Before picking out a kitchen sink, think about your space and how often your kitchen is used. If you cook a lot, or have a large family, durability and space should be at the top of your list. If you don't cook often, a less durable but decorative design may be the best choice. Today's blog will give you the run-down of kitchen sinks, to help you pick the perfect one for your new kitchen.
Depending on the size of your kitchen, you can choose between single bowl, double bowl and even a three-bowl sink. If you hand-wash your dishes, choosing a double bowl may be the best option to keep your busy kitchen organized, while a three bowl sink features a shallow middle part that is perfect for a garbage disposal.
Stainless Steel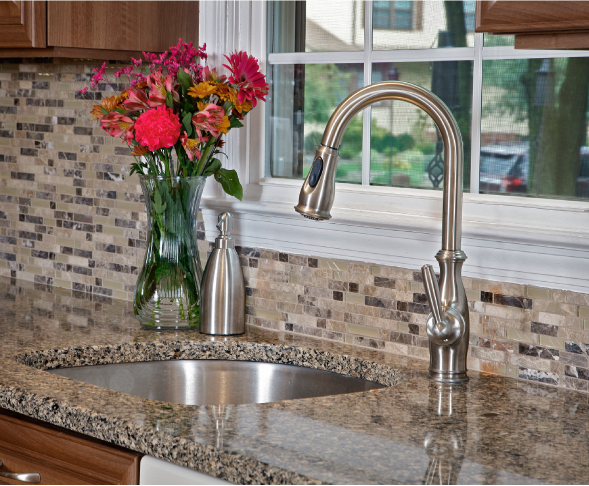 Stainless steel sinks tend to be the most popular and affordable choices among homeowners. Stainless steel sinks are known for being durable and easy to clean. They come in both a thinner and thicker gauge. The thinner gauge (22) is less expensive than the thicker, but it is not as strong, can dent easily and show water spots and scratches. The thicker gauge (18) is stronger than the thinner gauge, and resists water spots and dents. It also conceals scratches, and has a high nickel content, which gives it a smooth and shiny look.
Enameled Cast Iron
Cast Iron sinks come in many colors and styles, and work best in kitchens with a traditional design. They retain heat well, but are very heavy and can be expensive. If you want a Cast Iron sink, also buy a sink protector to keep the sink from chipping and staining.
Corian Solid Surface Materials
Corian is a very low maintenance product with benefits for the busy kitchen. It is known for being durable, stain resistant and mold resistant. Scratches and burns can be easily sanded out, and it is very easy to clean. Corian is the best material choice if you want your sink seamlessly integrated with your countertop or drain board, creating a continuous non-porous surface with no room for mold or mildew to grow.
Stone
Kitchen sinks made of stone, slate or granite for instance, are great for the homeowner that wants to make a statement. Stone sinks make a great design focal point, but can get pricy, are hard to maintain and can be hard on your dishes.
Metal
Metal sinks, like brass and copper, also create a custom look, and fit with both modern and traditional design styles. Thicker metal gauges boast durability, but metal sinks are high maintenance and very expensive.