Affordability and ease may be two of the most important considerations when planning and implementing your kitchen remodeling these days. Luckily you've discovered Kitchen Magic's refacing procedure: An inspired solution for updating and transforming a kitchen that combines your design "wants" with your function "needs", creating a brand new kitchen from existing cabinetry, at about half of the cost of a conventional kitchen renovations.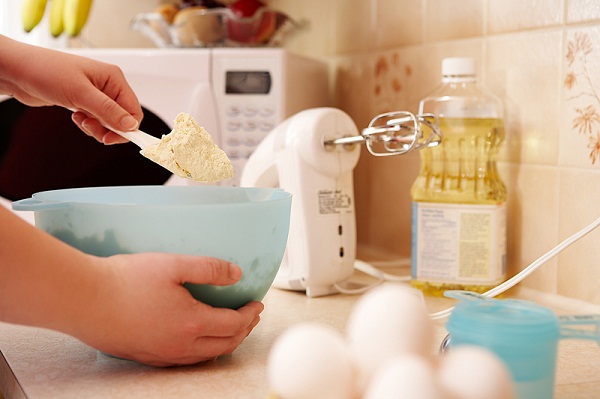 The Recipe
The beauty of refacing is in the details. Just like a delicious meal, the recipe for success is using the right ingredients, knowing the precise method for preparation and finally, correctly mixing together all the elements to "cook up" a revitalized and affordable kitchen remodeling project of quality, good looks and efficiency.
Ingredients List:
1 slightly used and out-of-date kitchen
1 new cabinetry design of quality wood or laminate veneer
¼" sheets of plywood
New matching doors and drawers
New hardware and hinges
New countertops (optional)
Kitchen Magic professional installers
The Preparation
Meet with a Kitchen Magic specialist to help you choose the best custom solution for converting your kitchen from out dated to out-of-this-world. Schedule your refacing project and answer the door when your Kitchen Magic installers arrive.
The Process
Step 1: Your existing drawers and doors are removed.
Step 2: As part of the double-lamination process, 1/4" of plywood is bonded to your existing cabinet frames.
Step 3: An outside layer of quality wood or laminate veneer of your choosing is adhered to the cabinet frames.
Step 4: New matching drawers, doors, hardware and hinges are attached to the newly prepared cabinet structures and voilà, your new affordable kitchen remodeling project is complete!
It's really that simple. All it takes to craft the kitchen you've always wanted is to schedule a free, full hour of expert advice with one of Kitchen Magic's refacing experts. Let us show you how, for over 33 years, Kitchen Magic has been making our long-standing customers' affordable kitchen remodeling dreams a reality!
Kitchen Magic + You = Happiness in your new and "Tastefully" prepared kitchen.