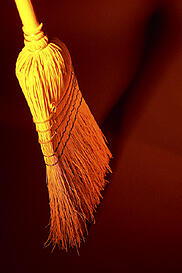 Well it's that time of year again, when the costumes come out, the candy is overflowing the shelves of your grocery stores, and your kitchen is in need of a good cleaning! Some people would agree that some of this years scariest costumes wouldn't even come close to comparing to the mess their kitchen has become, and there's only one way to solve it, clean.
Now if your like me, you probably don't enjoying cleaning. I know there are some people out there that do take pleasure in the inconvenient activity, but it is still needed. So how do you clean up your kitchen to make it less scary this Halloween? Follow these three simple steps, and the only thing scary in your home will be the trick-or-treaters!
Step 1: Throw out all your junk!
There is no need to find yourself on Monday nights hit A&E show "Hoarders". If you have been neglecting to throw out a lot of the useless stuff that is piling up on your kitchen countertops, your in for a scare! The bacteria and disgust that comes with piled up junk is scary and disturbing to say the least. Get a big trash bag and start throwing stuff out. You'd probably be surprised at the extra counterspace you'll end up finding.
Step 2: Don't forget the hard-to-reach places!
Here is the inconvenient part: you may need a ladder. For those kitchens with high cabinets that have the space in-between the cabinets themselves and the ceiling, you might just have a dust-bunny farm in the works. Clean it up! You'd be surprised if you think you have bad seasonal Fall allergies, when really you've been sneezing up a storm because of the dust floating around your kitchen! Get a dust-woofer or some paper towels and wipe away. Even if the appearance of your kitchen doesn't change a lot from this cleaning, at least you'll be able to breath again!
Step 3: Organize what's left!
So far so good right? Now all you have to do is take what you have left and make it look good! By now you should have thrown out all of the useless junk that has been piling up all over your kitchen and you should have gotten rid of the intolerable dust farms living in those vacant spaces. Take the good (unexpired) food, pots & pans, cleaning supplies, etc., and re-organize them so you have more space in your cabinets and on your countertops, and so you can find them easier when you are in desperate need of a lid for your over-flowing pot of boiling water!
I hope your kitchen now looks brand new or at least 110% better than it did before you started! I'd love to see what you've done, so feel free to post on our Facebook page a before and after picture of your once "scary" kitchen and how great it now looks after following my 3 simple steps! Happy Halloween!