Imagine this: grimy plates pile up to the ceiling with enough cracked plates to feed the world's ant population. Worn out, stepped on clothes piled on chairs and tables. Mmmm, sniff a whiff of the body odor.
Don't open that cupboard! Watch out for all those cans—ouch! Expired dry food tumbles out.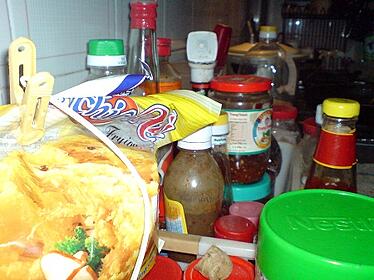 It's time to eat out again! Even though there is enough food to last until their great-great- grandchildren are born. There may be 365 days in a year, but this family has eaten out over 1000 times and it's only March.
This family doesn't throw anything away. Bundles of musty newspapers occupying every square inch. Every toy is guaranteed broken. The bright side is that by living in a garbage dump, they have developed real life experience in a well paying profession. Garbage Man.
We've warned them not to cry when they are rejected for the job. Garbage men are supposed to throw garbage away, not hoard for the impending apocalypse. Whoops, that was yesterday's apocalypse, shucks we missed it again. No worries, there is always another one right around the corner.
This ugly kitchen is a sorry state, but even on today Friday the 13th there is help! Even though everyone else has turned you down, maybe if you ask nicely Kitchen Magic will help. But it would help if you clean up a little first.
The picture above was provided courtesy of Nhy Nguyen.
---
This was the final episode of Ugly Kitchen Week. This week we explored three other broad categories of ugly kitchens including The Old Age Kitchen, The Limbo Kitchen, and yesterday's The Dungeon Kitchen. We hope you had some fun with us this week. Next week we will be back to giving you some great advice for your kitchen projects and endeavors.