No, not talking about anything religious; but being in between. A kitchen that began being remodeled but was never finished.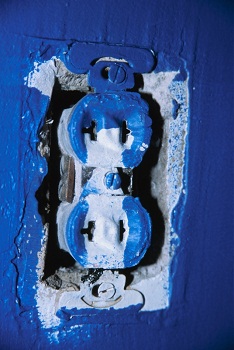 Everything is bare and exposed. Furniture frames of potential that even putting towels over the empty space won't improve its propriety or aesthetics. Welcome to the conglomerate of dirt, the cesspools of mildew, and erosion of rust. You'd cry if you saw it, but you can't since the dismantled pipe water sprays your face.
Kitchen is not the same word as warehouse, except in this house. It looks like an abandoned hardware store for squatters. What's cooking for dinner, formaldehyde fumes?
Did the people paying for the kitchen remodel not realize they were going to run out of money? Are they waiting till they have more savings or given up? Maybe the remodelers weren't honest and underestimated the estimate which ballooned out of control. It's not all bad, the unfinished kitchen looks very pretty with some err… cheap balloons (make sure the balloons are not 1960's rug orange). With the cute balloons, no one will even notice you opened up a warehouse—except the squatters with their cute baby.
"No baby, don't stick your fingers in that unfinished AC plug socket. No, don't chew on those wires. No don't…"
Shockingly, Kitchen Magic will give you an accurate estimate that's within your budget and stick to it. Kitchen Magic will get the job done, in a timely and safe fashion. That is, unless you prefer the 60's or 70's fashion completed in 60 or 70 years.
---
In case you missed our first article in this series and you don't know what this ugly kitchen thing is about, this week we decided to put off our thinking caps just to have a little excercise in imaginination; to imagine the ugliest kitchens imaginable. We hope you are having fun! We'll get back to the more serious kitchen remodel advice next week. If you can't wait, consider downloading our FREE consumer guide below. Don't forget to come back tomorrow for our next ugly kitchen, "The Dungeon."