Preparing for your kitchen remodel can be a hectic and stressful situation. Making do without a fully functioning kitchen during the remodeling process can be even worse. However, with some strategic planning and preparation you will survive. Following these few steps listed below will make your life a lot easier during this chaotic time.
1. Pack, Organize, and Clean
You will need to gather supplies like boxes,storage bins, packing materials, tape, markers, etc. ahead of time. Once you have these materials, plan out which kitchen items you will use most frequently, and pack accordingly. You will need to identify which kitchen items are essential, in which you will be using on a more frequent basis. Keep these items in an easy-access area, and store away fragile, non-essential items. Once everything is packed and organized, think about how you will keep the surrounding areas clean. A considerable amount of dust and dirt will accumulate around your house during the remodeling process. That being said, you will want to cover your floors, furniture, and any other fabrics with plastics sheets, and seal off all doorways leading to other rooms.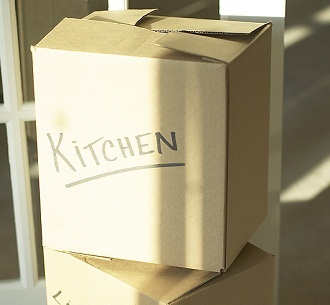 2. Set up a Temporary Kitchen
Since your kitchen will be out of commission, you will went to consider setting up a temporary kitchen. You could eat out every day during the remodel, but this will likely get too cost consuming. By setting up a stand in kitchen, you will have an area to prepare home cooked meals using small items like microwaves, hot plates, and toaster ovens. This will also come in handy for completing simple tasks such as preparing school lunches, brewing your morning coffee,or even just store non-perishable food.
3. Track Progession
It is always comforting to know exactly how far along you are in the remodeling process, and how close the end is in sight. It may be in your best interest to take pictures of your kitchen during the remodeling process-- this will help you stay focused on the light at the end of the tunnel. You should also keep an open line of communication with your contractor by asking questions, and making a checklist of the tasks completed each day
4. Keep Busy
The whole remodeling process will be less hectic if you stay busy-- especially if kids and/or pets are involved. Pets and children can be a great danger to themselves and workers if unattended to. This may be a good time to schedule some day trips, visit with family and friends, or even hire a pet-sitter. While it is important to know the progress of your kitchen remodel, micromanaging the effort will likely cause unnecessary stress and conflict between yourself and workers.
5. Expect the Unexpected
One of the only things that is predictable during the remodeling process, is that something unpredictable will happen. Here are a few common problems homeowners run into when remodeling their kitchens
Products delivered late.

Products missing parts or damaged

The wrong products were delivered

Bigger messes than anticipated

Structural problems requiring repair
Flexibility and patience are key at this stage, especially when developing solutions. It is not unusual for a few setbacks to occur when undertaking such a big project--staying calm is key.
The bottom line is, the remodeling journey doesn't have to be so painful if you plan ahead, and know what to expect.