I was first introduced to chocolate pudding pie during a large family party when I was about six years old. Instantly, I began my love affair with all things chocolate pudding, including all different sorts of pies, trifles and especially those 'dirt' desserts that were full of gummy worms and crushed up chocolate cookies. But my favorite extension of chocolate pudding is by far this s'mores pudding pie recipe. Unlike traditional s'mores brownie pies, which can take a while to bake and are almost too rich to eat, this s'mores-type recipe lightens up the pie with a think layer of pudding, making it a perfect summertime treat!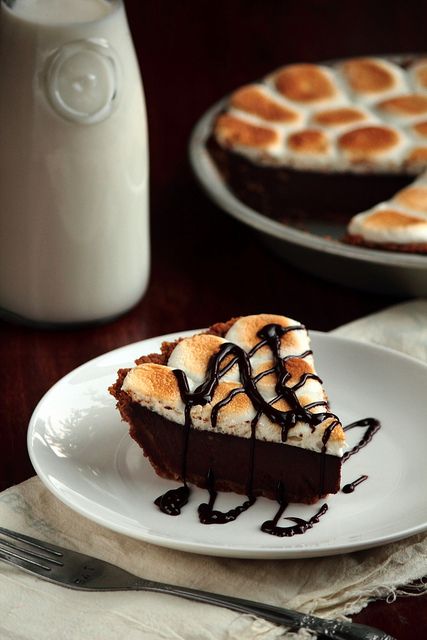 Ingredients:
1 store-bought graham cracker pie crust, or prepare your own with graham cracker crumbs.
1 bag of mini marshmallows
1 box chocolate pudding mix, instant or regular
chocolate syrup for topping
Directions
Step 1:
Make your pudding as directed on box, and let sit in refrigerator until completely cool.
Step 2:
Pour cooled chocolate pudding into pie crust and smooth top.
Step 3:
Layer mini marshmallows on top of chocolate pudding.
Step 4:
Place in broiler for 2-3 minutes, or until marshmallows are lightly browned. Keep a close eye to make sure marshmallows down't burn.
Step 5:
Top with a drizzle of chocolate syrup and serve!
We hope you love this quick and easy summertime dessert as much as we do! Looking for a delicious meal to pair with your s'mores pudding pie? Try our Pulled BBQ Chicken Sandwiches to finish off this picnic-ready meal!