Cooking and socializing should be a pleasure - not an annoyance, but outdated or poorly designed kitchen makes that impossible. Some of the most common nightmare kitchen design issues include things like:
Completely outdated kitchen features beyond any hope of being "retro-cool."
Clutter clutter everywhere as the result of poorly designed cabinets/drawers.
Faded, peeling or otherwise damaged cabinets and/or countertops.
A kitchen that has no flow.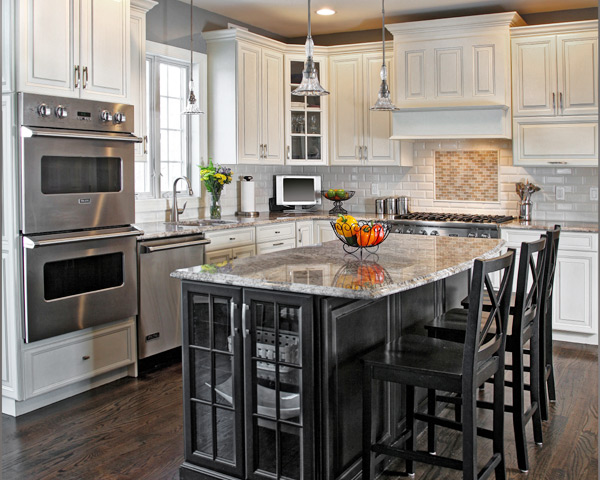 The good news is these issues can be turned from nightmare to dreamy for less money than you think.
Design a Dream Kitchen That Respects Your Budget
If you can afford a complete kitchen remodel, that's great. If not, that's great too because there are plenty of "one-" or "two-step" changes you can make that will have amazing results.
1) Re-vamp a completely outdated kitchen. This one can make you want to put your head in the sand like the proverbial ostrich, bemoaning the costs involved in bringing it into the new century. Well, peek your head out ostrich because guess what? Cabinet refacing is an affordable and one-step method to change everything. Once you have new cabinets, everything else can be cheaply "touched up" until your budget is flexible again:
Remove outdated window coverings and purchase attractive, affordable replacements.
If flooring is atrocious, lay down a trendy area rug or two.
Use a single can of paint to liven up the backsplash area or, if it's tiled, there are tile decals or stick-on-tiles that are cheap and will work just fine until you're ready for Phase 2.
Is that old Formica lifting and peeling? See #3 below...
2) Eliminate clutter. Cabinet and drawer organizers can do wonders for your kitchen clutter. Consider adding pull-out shelving and organized drawer inserts. Tuck that trash can in its own cabinet hideaway and purchase a portable kitchen island with storage that can serve as additional prep space as well as more storage room.
3) Fix those cabinets or countertops. Peeling or faded cabinets are fixable via affordable refacing. The result is high-quality, reinforced cabinetry that looks anyway you want it to. When it comes to countertops, let's be honest - even the most mature of us can't help but grab that peeling section of Formica, pull it back and "thwap" it back in place.
If you can afford to install a more luxurious slab, like Quartz or Corian, that's awesome. You'll have a "twhap-free" countertop for the rest of your life. If not, don't get too envious of your granite- or quartz-boasting friends, simply install a new laminate countertop and be amazed at how far their designs have come. The new patterns are gorgeous, epoxies are more durable, and laminate countertops work well with any design taste.
4) Get things flowing again. You bonk a hip here, refrain from punching loved ones when they knock into you there and your fridge door bumps into the oven door...sounds like you have flow issues.
Kitchen flow is instrumental in creating a kitchen that's fun to cook and hang out in. Maybe that island wasn't a great idea and a peninsula or portable island would be better. Perhaps your older kitchen was designed using the "work triangle" principle, which doesn't serve you anymore. Or, maybe it's time to consider knocking out a wall and going for an open floor plan concept.
In any case, a consultation with a professional kitchen designer can provide a wealth of ideas so you can enjoy a more functional and efficient kitchen.
5) Turn on the lights. A dim or poorly-lit kitchen will seem small, cramped and dingy. That's not the ideal.
If you need more design advice, check out the 6 Biggest Design Faux Pas that homeowners make when remodeling their kitchen.