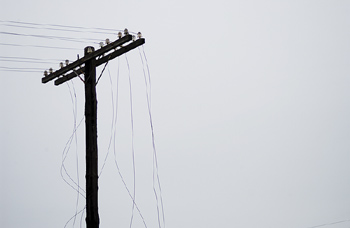 Unpredictable power outages can be a real dilemma to many people and the essential supplies they have within their homes. Whether a bad wind & rain storm, blizzard, downed power line, or simply the lights just go off, have a back up plan to be prepared!
You can't really avoid losing power. But you can be ready, and make the most of what you have. After going through a fair share of power outages that have lasted hours, to days, to even weeks – we have come up with 4 tips on making the most of your powerless kitchen!
1. Preserve what you have
It is no surprise that the food in your refrigerator and freezer will only last for so long once the power goes out. You have about 48 hours to consume perishable food before it goes bad. To preserve the food you have left, try moving everything in the refrigerator to the freezer. Stuffing all food into one area will create an "igloo" effect, keeping the food colder, longer. You can also throw blankets over the refigerator/freezer to insulate them, preserving the cold air. It may also be a good idea to plan ahead, and find out where you can find dry ice. Placing dry ice in a cooler with your perishable food will slow down the spoiling process as well.
2. Always have non-perishable food stored away in your kitchen cabinet
By the time power is out, you and probably hundreds of others will be heading out to the store to grab what they can stock up for the next few days. Save yourself the hassle and already have those supplies. Keep some canned non-perishable food in your kitchen in case you can't cook for a few days!
3. Take advantage of a portable gas stovetop
Electric stovetops won't work when the electricity is out – that's a given. However, gas stovetops will. In a prolonged powerless period, having a gas stovetop can allow you the flexibility to boil water, cook some soup or stew, and even better, pop some popcorn the old fashioned way! You can find these in sporting goods stores, or in the camping section of your local department store.
4. Buy a generator
This tip may be considered cheating, but so many people across the country these days have generators just in case. It's not a bad idea, and it might just save you some money in the long run. If you have freezers full of food and power goes out for 3-4 days, you could lose everything. It may be beneficial in the long run tosplurge a little bit on a small generator that can power up the essentials in your kitchen, keeping your food from spoiling. With some generators you can even power up your oven and keep those home cooked meals going.
5. Follow food safety guidelines
With so many things running through our minds when the power is out or has been out for a while, we tend to forget the little things that can really make things unpleasant. Your refrigerator and freezer may be in for some surprises after a few days, concealing spoiled condiments such as mayonnaise. It doesn't stop there though! Check on the food in your kitchen cabinets as well. On hot and humid summer days, food that is usually kept in comfortable climates in your pantry, may have spoiled from the sudden change of temperature. Check out foodsafety.gov for more information on food safety guidelines.