Celebrities have the means to dine at the finest restaurants and have the convenience of personal chefs, and they also have the means to create kitchen designs that many would consider dream-worthy. We've gathered 7 of our favorite celebrity kitchens to inspire you with ideas for your own dream kitchen. Check out the beautiful spaces where people like Miley Cyrus, Stephen Curry, and Giada de Laurentiis prepare meals, enjoy cuisine, and entertain guests.
Alec & Hilaria Baldwin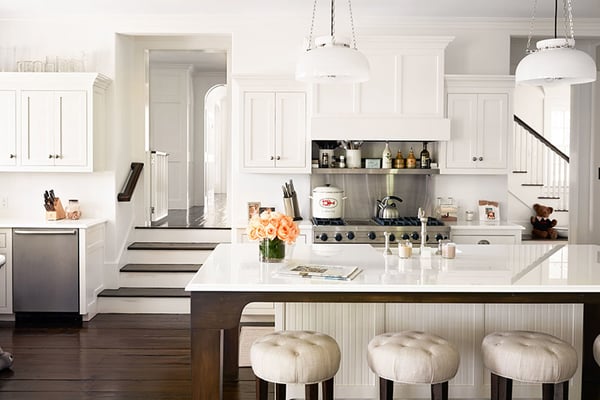 Elle Decor
The Baldwin's 18th-century farmhouse on Long Island comes equipped with a spacious transitional kitchen that combines cottage design with modern styling. Beadboard, tufted barstools, and crown molding, with a wood-and-white palette speak to the cozy-cottage aesthetic. Meanwhile, the pure white walls, countertop, and cabinetry, stainless-steel appliances, Shaker style cabinetry, and clean linear detailing bring a modern aspect to the design.
Architect Fred Throo and designer Daniel Romanoff worked together to redesign this traditional farmhouse kitchen. What was formerly many small rooms, befitting a home from the 1700's, became an open-concept kitchen and dining room where the couple frequently have dinner together with their two children.
Miley Cyrus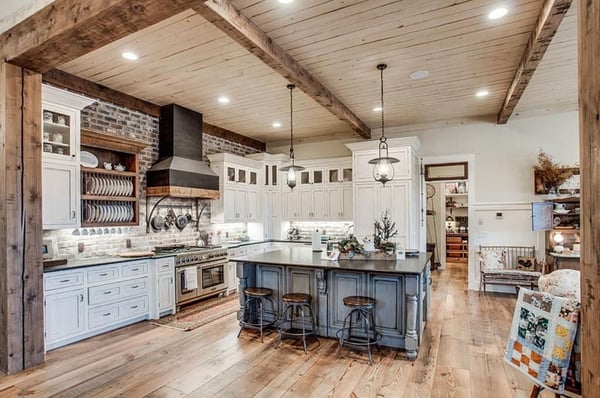 Elle Decorr
Miley may sing about "Malibu", but her new $5.8 million home is in Franklin, in her birth-state of Tennessee. The sprawling 5-bed, 6-bath mansion sits upon 33+ acres, and the kitchen is a rustic, country dream! Exposed beams and brick, antique white cabinetry, classic woodwork and molding, and to top it off—a southern-blue contrast island—all gracefully come together, creating a quintessential country-farmhouse kitchen fit for a pop-princess.
Stephen & Ayesha Curry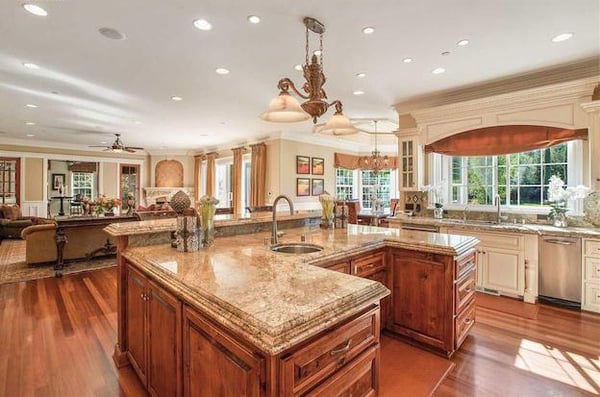 San Francisco Business Journal
The Curry's huge home in the East Bay area of San Francisco, in the town of Alamo, was purchased in 2016 for $5.77 million. After having moved around the bay area for some years, it seems the couple have found their dream-home in this stylishly traditional mansion. With 10,290 square feet, 5-bedrooms, and 8.5-bathrooms, it's no wonder the kitchen is as luxurious as it is! Traditionally styled, with an Old World look and feel, the ornate details and decor are tastefully elegant. Warm terracotta tones, combined with neutral creams and beiges, create comfort and instantly eliminate any potential for perceived stuffiness.
Ralph & Ricky Lauren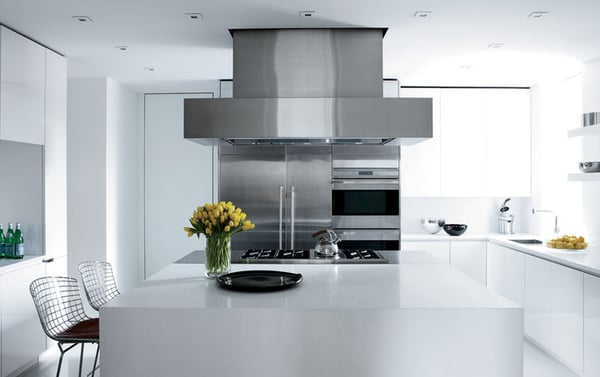 Elle Decor
Well, surprise, surprise - Mr. Fashion Designer has a ultra-stylish modern kitchen! Ralph and his wife, Ricky, share a home in Manhattan. They have a kitchen that features clean lines, pristine whites, and modern appliances that make for a beautifully minimalist sight to behold. The immaculate Celador countertops will likely last a lifetime, as well as the white lacquer and stainless steel cabinetry. The high-end oven, cooktop, and custom-made hood vent are simplistic yet exquisite, all made by Wolf.
Ellen Pompeo & Chris Ivery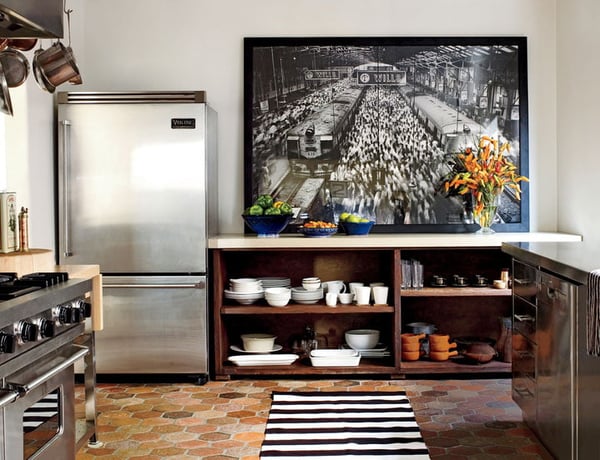 Elle Decor
The Grey's Anatomy actress and her music producer husband share a home with their daughter in the Hollywood Hills. The entire house features Mediterranean and Moroccan styling throughout, the kitchen being no exception. Terracotta floor tiles imported from France, stylish open shelving, with both rustic and urban details culminate to create a beautifully eclectic kitchen space. The industrial-style stainless steel appliances and cabinetry retain a modern feel of sophistication.
Michael Bay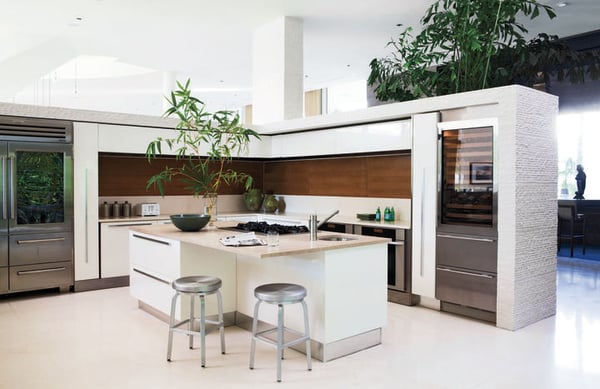 Elle Decor
Famed Director, Michael Bay, owns an impressive Miami Beach home with a kitchen that does not disappoint! The architecture is by Chad Oppenheimer, who collaborated with interior designer, Lynda Murray. They created a post-modern contemporary mansion that is nothing short of a masterpiece. Sheathed in carved limestone, the freestanding kitchen walls also feature natural oak paneling, creating that coveted post-mod effect. The high-tech appliances are by Sub-Zero, completing the polished contemporary design.
Giada de Laurentiis
Architectural Digest
Celebrity chef, Giada de Laurentiis, owns a Spanish-style bungalow in the Pacific Palisades area of Los Angelos. She recently updated and expanded the home with the help of architect, Peter Cohen, and interior designer, Kevin Fitzsimmons. Posh and modern, this kitchen sports linear minimalism, and a sharp contrast from deep chocolate brown to pure bright white. A lack of cabinet hardware, as well as fully integrated appliances, contribute to the modern look and feel. The enormous island is no surprise, as we know this is a woman who likes to get her cook on!
There you have it, 7 celebrity kitchens worth celebrating! The rich and famous always seem to have their finger on the pulse of style and trends. While we may not have the same budgets they do, we can certainly glean inspiration from the way they harness great interior style. We hope you come away from this article with some stylish new ideas for your kitchen!