Mr. & Mrs. Foster, from Redbank, New Jersey had high hopes for their modern kitchen remodel. The busy couple was tired of their outdated kitchen, with its all-too-common neutral colored cabinets and off-white laminate countertops. Desperate to make the most of this large, corner kitchen, they consulted with a kitchen specialist to design the modern kitchen of their dreams.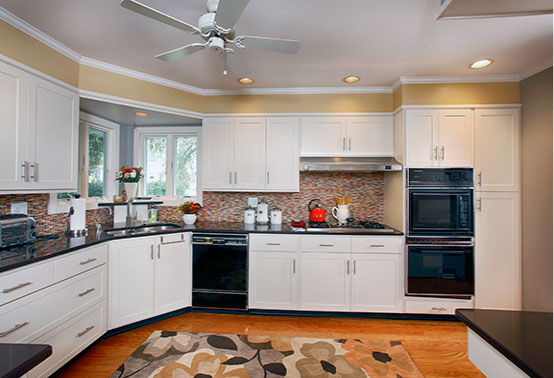 Eager to transform their dull and drab space into a kitchen that would be both functional and trendy, the couple reviewed hundreds of cabinet door and countertop samples while working with their kitchen specialist to design the modern kitchen of their dreams.
Modern kitchen designs are quickly becoming a popular style among homeowners and designers alike for its simple design scheme that focuses on the kitchen's materials, rather than the detail-oriented design common in traditional kitchens.
After reviewing their many cabinet door material options, Mr. & Mrs. Foster chose Maintenance Free Cabinets, for their superior durability and ease of care, compared to wooden cabinet doors. Not only are Maintenance Free Cabinets less likely to warp or fade over time, but they are also the perfect material to use in modern design. This is because Maintenance Free Cabinets provide a more consistent color throughout, for the clean, consistent look of a modern kitchen. The homeowners chose Prestige Statesman style in Antique White color with silver-colored pulls, for simple style that could be easily updated with colorful accents. And that is just what they did with the addition of a multi-colored glass backsplash.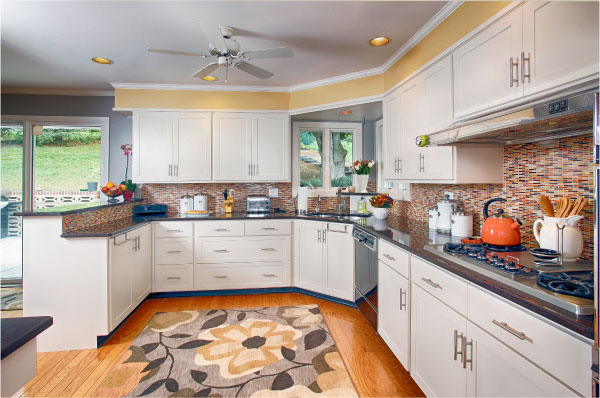 Throughout their search for a modern kitchen that focused on quality materials that could stand out on their own, their kitchen specialists offered the most durable countertop material out there: a Cambria Quartz countertop. Once they heard about the unmatched strength of Engineered Quartz, combined with the hundreds of unique colors from stunningly light to mysteriously dark, the couple was sold.
Mr. & Mrs. Foster chose a Cambria Quartz countertop in the color Oakhampton. Oakhampton's dark chocolate color is both rich and unique, offering the couple the deep contrast to the Antique White cabinets they so desired. From afar, Oakhampton provides the same monochromatic appeal as the Prestige cabinets, but when the couple took a closer look, they saw that the variants in the countertop color made for a truly unique color scheme for this modern kitchen. Which was just the custom touch these homeowners wanted.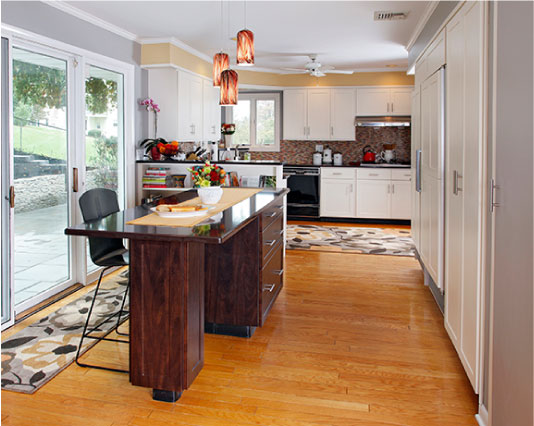 Mrs. Foster also wanted to add a workstation to her kitchen so that she could get some paperwork done while making dinner. Kitchen Magic remodeled their kitchen desk with the Prestige Statesman Maintenance Free cabinets in Chocolate Pear.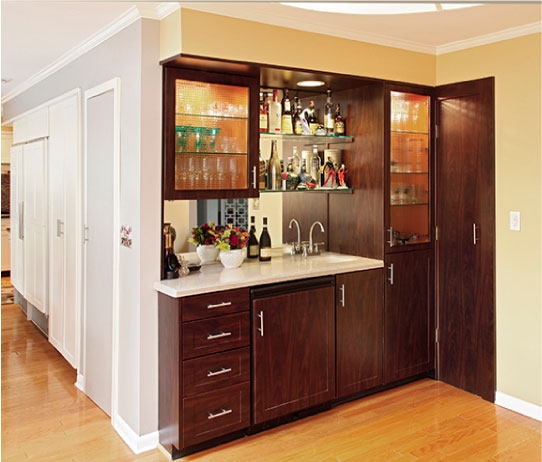 The same cabinet style and color used for the kitchen desk were also used to reface the Butler's Bar, with a Corian Solid Surface countertop in Sandstone. Because the couple loves to entertain, this new modern kitchen transformation kept an open layout and combined quality materials with simple, contrasting color schemes for a kitchen the couple would be proud to share with friends and family.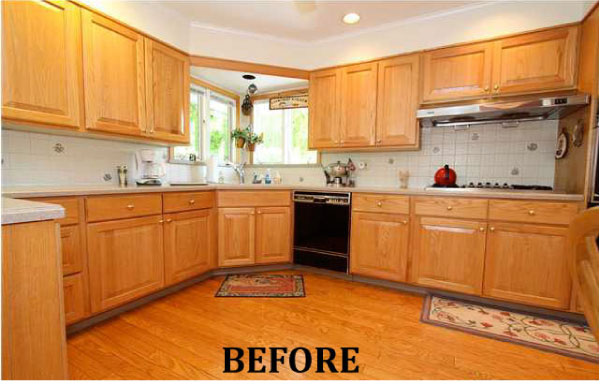 For privacy purposes, the names in this article have been changed.