The kitchen is no longer a space reserved only for women—the times have changed and men are spending more time in the kitchen now than ever before! Kitchen designers are also joining in with the masculine movement, and creating design trends that are more rustic and rugged. In celebration of Father's Day, today's blog post will give you five kitchen design tips for a more masculine kitchen makeover.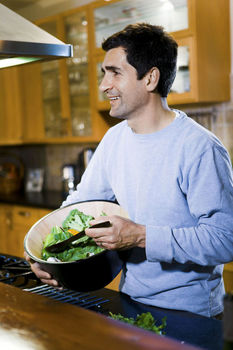 1. Mix Wood Materials
If you're thinking about replacing or refacing your cabinetry with a masculine touch, try incorporating different types of wood into your kitchen remodel. Natural and dark-stained woods have an earthy and rugged look. Experiment with different textures, colors and grains to find the wooden cabinetry that best fits your personal taste.
2. Stick with Stone
Using stone materials for your countertops and backsplash can bring a strong, textured look to your kitchen. Quartz and Granite are our favorite natural stone countertop materials, and come in a variety of deeper colors. If you can, purchase the stone countertops in slabs—the expanse of stone will give your kitchen a larger, more masculine look.
3. Go Chrome
When it comes to appliances and accessories, choose metal-based finishes. Nowadays, you can find appliances and kitchen accessories in a range of bright and pastel colors, but a mess of feminine colors won't make your kitchen look rugged. You'd be surprised what a difference the type of color of appliance you choose will make on the final kitchen transformation.
4. Large Light Fixtures
Large-sized and industrial light fixtures bring a robust feel to your kitchen remodel, and also make a great focal or statement piece for the space. Industrial-inspired light fixtures can be found just about anywhere, and make a great DIY project for your kitchen. Try repurposing an old or distressed metal bucket as an industrial light fixture above an island or butcher block.
4. Think Textures, Not Patterns
When it comes to window treatments or fabric furnishings, it's best to choose something textured rather than a piece with patterns. We love oiled bronze fixtures for a kitchen design with a masculine feel. For the window treatments or fabrics in the kitchen, stick with a textured material that's also strong, like burlap.