What all is included in a kitchen price? Am I getting ripped off by a big chain store? These are all important questions to ask yourself when deciding how much to spend on your kitchen.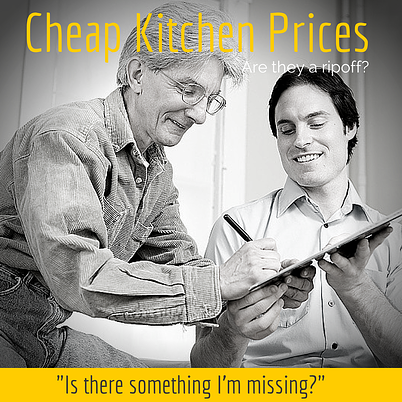 I went to one of the big home center chains and got what I thought was a terrific price on a new kitchen. But before I sign, I have to ask: Is there something I'm missing?
- Don L.
Ronkonkoma, NY

The Truth About Cheap Prices
Yes, Don, at first blush I'll bet you did get a terrific price. But a lot of people in your position who thought they were getting a sweet deal, ended up with a sour taste when all was said and done.
Here are 4 points to consider:
1. Who measured the kitchen? If you wielded the tape measure yourself, you're going to be on the hook for any error. Kitchen Magic sends an experienced professional out to your home to take measurements for our jobs.
2. What's included in the job? Do you have to pick up the cabinets, countertops and other items and deliver them to your home yourself? (Some home centers want to rent you a truck at this point and act like they're doing you a favor.) Kitchen Magic provides full service.
3. Who's going to install the kitchen? Almost all home centers provide materials only. Installation is the customer's lookout, and where most of the problems and pitfalls, if any, will occur. With a home center kitchen, you have to find a separate contractor (o do it yourself), negotiate a price, hope he shows up on time, and watch his job performance.
4. What if something goes wrong? The home center won't even want to hear about it.