A drab kitchen in summer decorated with a palette of dark or plain colors, or slightly varying shades of one color, can suck the life out of a home.
Outdoors, summer gives you a bright, open, warm and lively atmosphere.
Why then shouldn't your kitchen indoors do the same?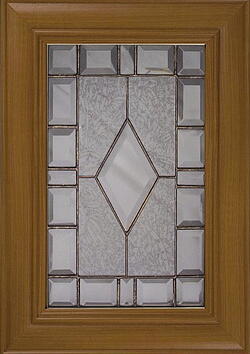 Glass is one of the best kitchen renovation materials you can use to accomplish this task. Glass surfaces add or reflect light, break up bland colors and create the illusion of extra space:
Doors
Incorporate glass into your kitchen cabinet design with framed clear glass panel doors or frameless glass slab doors. Use only glass doors on your cabinets or mix glass doors with solid wood or laminate doors, or open shelving areas. Clear glass doors reflect light and allow you to see inside cabinets creating the illusion of extra space. If you prefer some privacy, use textured or frosted glass, which offer a lesser degree of the same benefits; or use mirrored glass doors that reflect the entire room.
Backsplashes
Install a low, half- or full- height backsplash of colorful, textured, frosted or mirrored glass tiles or panels above your kitchen countertops. To add an extra dimension to your backsplash design, use tiles of different sizes or mix the types of glass you use. If you have an existing backsplash, or prefer ceramic or stone to glass, install glass tiles intermittently throughout, or add decorative mosaic designs.
Countertops
Glass can and will scratch. As a result, most people only consider solid surface man-made materials and natural stone for countertops. Consider thick durable textured glass countertops as an alternative. Glass countertops can look like pools of water and, with the right lighting, can also double as breathtaking party and event centerpieces. Textured glass hides most scratches and, if a noticeable scratch does occur, you can quickly repair it. If full glass countertops aren't appealing, accent solid surface countertops with lit or unlit inset glass tiles or glass cutting boards.

As you can see, glass materials provide a wide range of beautiful design options to add new life and a touch of summer to any kitchen.