Homeowners can find numerous opinions about color theory and interior design on the Internet. The problem with "expert" opinions is that popular trends and personal or commercial preferences influence recommendations.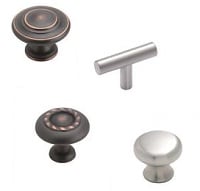 One expert might tell you that silver hardware looks best with light colored cabinets and the next might show you images of kitchens that feature silver hardware perfectly complementing dark cabinetry. One expert might tell you ornate bronze hardware only works well with dark solid-colored cabinets and natural countertops and the next might show you a light-colored kitchen featuring manmade materials and the same hardware.

So, how do you make the right color selection that will match your cabinets and countertops?

First, you need to recognize that more than cabinet and countertop color influences hardware color. The bigger picture includes cabinet and countertop styles and materials, hardware materials, kitchen size and shape, kitchen theme and lighting.

Second, you must do research to learn:

1) The types of hardware colors and styles available.

2) The types you prefer.

Search interior design, home renovation, architecture and cabinet or counter manufacturer websites for images of kitchens that have cabinets and countertops in colors, styles and materials similar to your own. Make a list of the hardware styles and colors used and the combinations you like. Additionally, write down the names of specific types of hardware mentioned for future reference.

Once you have several ideas, then consult with an experienced sales or design rep from a cabinetmaking or kitchen design company. A rep will help you narrow down your ideas to one or two that match your cabinets and countertops and don't conflict with the kitchen's size, theme and natural and interior lighting.