"What kind of kitchen remodeling do I choose from? Countertops, cabinets, doors... not enough choices, but too much time."
This may be what some people are thinking in other countries that do not have the many kitchen design choices we have in the United States. You on the other hand are trying to decide your new kitchen style and frankly are a bit overwhelmed by the many options available. Let's take a trip down memory lane, avenue or road (another choice!) to help us decide.
Romance Theme
Perhaps you're in a committed relationship and you want your kitchen to express 'candlelight dinner-falling, head over heels love.' And inspire many intimate conversations to pepper-spice up the evening. If you have a fireplace now is the time to ignite it.
May we humbly suggest the cherry wood kitchen. Cherry wood is warm and inviting and complements the mood and dinner that you may want to set.
There are also many other sweet woods to choose from like nutmeg with brown glaze and ginger on maple. Let's not forget about the tasty harvest gold. Please don't lick the cabinets, they're there to inspire a delicious dinnertime.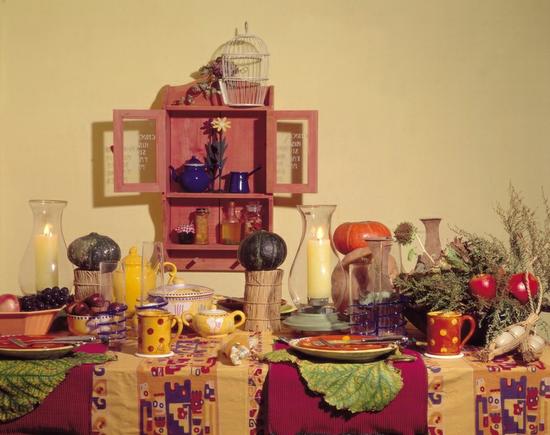 Thanksgiving Theme
Thanksgiving, which really ought to be renamed to Thanks-taking because everyone just takes as much food as their bellies will allow. But thanksgiving is a family get-together time. Kids laugh and play, and adults catch up on old times. What type of kitchen look might complement this celebration?
May we humbly offer up witch Hazel Corian. Not that we're suggesting that Chef Grandma is a witch as she boils her stew. She does have that magic touch for recipes though!
Other Corian options include:
These Corians match your oven's mouth-watering aroma which tease your nostrils. Hour after hour. That turkey is so large you may have to endure more salivating.
Corian is available in many other cozy colors and down to earth styles to suit your palette. The visual palette and your taste bud one too.
You may prefer a different style altogether to invoke one of these moods. Or you may be a party crasher. Perhaps you are on a one-person crusade to end all thanksgiving and romance. In other words please choose what suits your needs and taste best. That way we can party with full bellies and the couples can can crash their own private party of two.