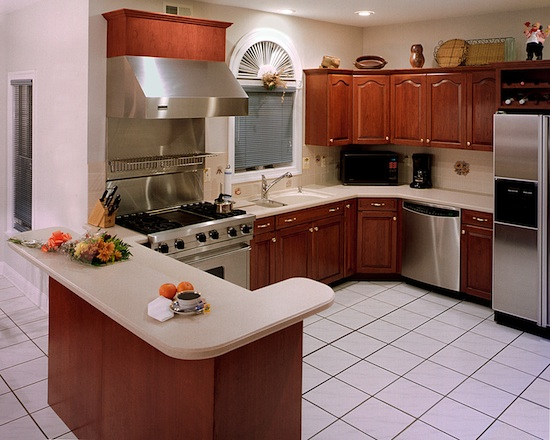 Mr. and Mrs. Robert R. of Flemington were faced with a design dilemma. They wanted a kitchen with commercial-look stainless steel appliances, but they didn't want their room to look sterile or like an industrial facility.
The answer was to turn to Kitchen Magic for a new design and custom built wood cabinets in Washington Cherry with cathedral wall cabinet doors and a cherry finish (above). The doors featured a distinctive slant groove.
A new DuPont Aurora Corian countertop was crafted. A stand alone hutch (below) was created from the same cabinet style, with glass doors to highlight the couple's collectibles and decorative plates, and frame a cherished piece of tile wall art.
A peninsula next to the stove features a lower prep area for chopping and other chores, and a higher level for informal dining or entertaining. Other distinctive touches include a wine rack over the refrigerator, and an integral sink.
The result is a room ideal for gourmet cooking and easy cleanup.