This is such an exciting question to answer because the Zodiaq Terra Collection of quartz kitchen countertops is one of my favorite lines for a green kitchen remodel. I would love to have 8 vacation homes so I could incorporate each one of the 9 gorgeous quartz slabs, leaving the Zodiaq Terra Mossy Green quartz slab for my primary home's kitchen countertop. Unfortunately, owning 9 homes is decidedly not eco-friendly, so I only have one.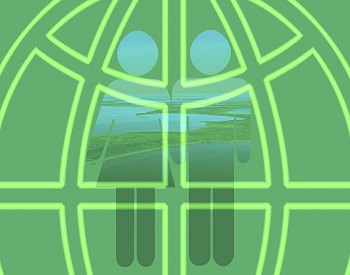 Now, on to our Question of the Day:

Is the Zodiaq Terra Collection really "Green"?
In a nutshell, "Yes". There are exceptions. If you have the opportunity to purchase a natural stone slab, consciously mined within a 500-mile radius of your home (or if you're producing the darn thing yourself), then that might be your most green option. However, here are the reasons why the Zodiaq Terra collection is an eco-conscious choice for your home's countertops.
It lasts a lifetime

It's one durable countertop. Without the natural defects that can cause surfaces like granite to break or fracture, and with the durability of one of earth's toughest minerals - quartz - quartz countertops are here to stay. If you get tired of it in your green kitchen remodel, it can be removed and sold to someone else, transformed into a backyard BBQ-counter (and a stellar one at that!), and the list goes on. It isn't going anywhere - which epitomizes the mantra, "Reduce! Reuse! Recycle!"

Speaking of Recycle

The Zodiaq Terra collection uses at least 50% pre-consumer recycled glass, as well as other post-consumer recycled products, to create their varied color options. Plus, quartz is the most plentiful mineral in earth's continental crust. So, in terms of a product that's made from an abundant natural resource, includes recycled materials, and lasts for a lifetime or two, you can feel good about purchasing a Zodiaq Terra collection slab. Even the non-Zodiaq Quartz lines, such as Cambria and Silestone, will contain about 93% quartz with a 7% filler - and also utilize recycled content to create attractive colors and patterns.

You Get Points!

In case you are counting the points, the Zodiaq Terra Collection, and other Zodiaq products, will get you LEED Points. It has won NAHB awards for its post-consumer recycled content (see #2), which can give you 2 points towards the National Green Building Standard, and all of the Zodiaq colors have been certified by GreenGuard for low VOC emissions.