When you remodel or reface your kitchen with one of the large home center chain stores, you will not be getting your kitchen installed by the store's employees. They will send you to an independent contractor and will not be responsible for the work that gets done or any problems that occur. Watch for these common worries and take steps to prevent bigger disasters.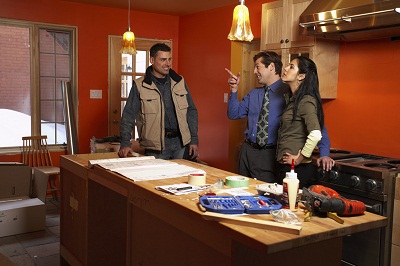 If the contractor is dragging his feet, shows up only a couple of times a week, and promises things will get moving again soon, don't buy it! Wishing and hoping is not going to change anything. You need to find a new contractor fast.
If a contractor asks you to pre-pay for a portion of the job he has yet to complete or start for any reason he gives, don't be foolish and hand the money over. He hasn't earned it yet, and it's a sign the contractor is in some financial trouble. Which means you better get prepared for the worst.
If the contractor asks for more money for something he screwed up and has to re-do, please don't give it to him. That's his problem and most reputable contractors know that. You'll likely not see him again because he doesn't know how to fix it and you'll be frantically trying to track him down.
If you don't understand anything the contractor is talking about, ASK! Don't just let it blow over, because you figure it's not important. Find out what the terms he uses mean to you and your project. Many people have told us that they didn't understand what the contractor was talking about when he discussed something, only to later find that it was something they didn't want or that became a problem. In the same vein, contractors who have encountered a problem they cannot fix often try to use double talk to hide their incompetence.
Your best bet when remodeling or refacing is to use a reputable firm that provides you with referrals of customers who can tell you how their jobs went. Kitchen Magic has been in business 30 years and is dedicated to making sure you are happy with your finished project. Our dedicated team of professionals explain the terms and conditions clearly and in detail, and we work to make sure the project is finished to your satisfaction.
Don't be fooled; give us a call today at (855) 573-3223. You'll be glad you! did.