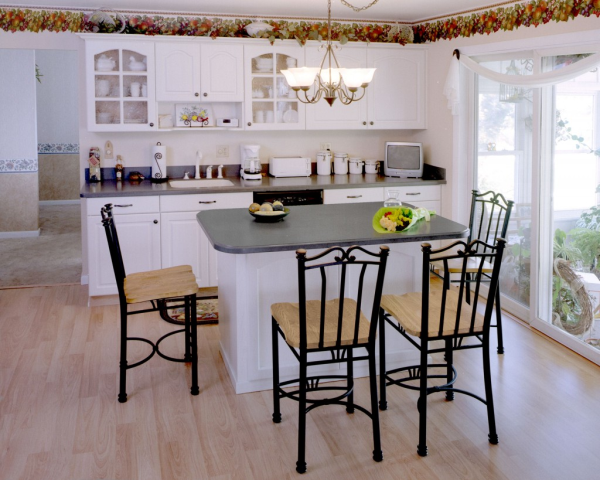 It is no accident that the spring season has long been associated with the concept of renewal. Soon after a harsh winter where the world around us looks lifeless and drab, this thing we call spring begins to reign over our climate, setting everything right once again. The snow melts, the earth softens and the trees bring forth their leaves. Animals which were just in hibernation become fully awake, aware and alive. The familiar things of old become new once again.

Kitchen Magic can bring new life to your kitchen much like the way Spring 'remodels' the outdoors. In fact, cabinet refacing is a perfect simile for spring. Like the tree awaiting its new leaves, the faithful reliable structure of your kitchen cabinets remains in tact, awaiting renewal by a friendly outside force. If your cabinets are out of season, Kitchen Magic's cabinet refacing is all the spring they need. Our exclusive double-lamination process renews the surface of your existing cabinets and leaves the things of the past behind. We provide new doors and drawers for your newly refaced cabinets so your kitchen will be in full bloom!

While the frozen ground gradually thaws outside, you can have your favorite frozen foods thawing inside—on one of our safe, anti-microbial, non-porous kitchen countertops! We offer Corian®, Zodiaq® and Cambria®. These surfaces are virtually maintenance free and strong enough to endure for many more seasons to come!

Much of the beauty we see throughout the summer times of our lives begins with spring, and most of the best memories we have in our homes start right in the kitchen. Let Kitchen Magic provide an affordable way for you to be in sync with the seasons so you can renew your kitchen this spring. As you entertain your neighbors, friends and family in your renewed environment, there will be no doubt in anyone's mind that Spring Happens in a Kitchen Magic Kitchen.

Call us at 1-855-573-3223 for a FREE hour of Expert Advice on how you can make Spring Happen in your kitchen!