When you have decided that it's time to remodel your kitchen, there are two considerations that quickly reach the top of everyone's list--time and money. Before you can begin to pick out cabinet styles and door accessories, you decide upon your personal remodeling budget and ask your kitchen craftsman, "How long will this actually take?"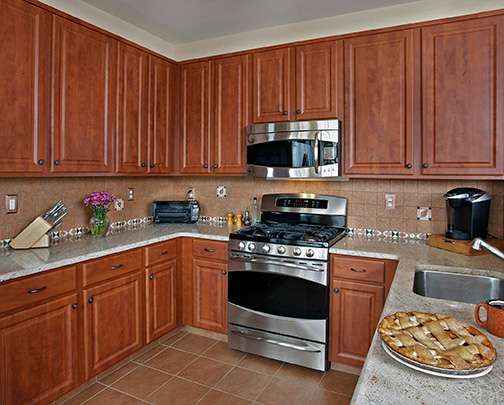 Refacing your existing cabinetry can cut your budget in half, and get you cooking in your new kitchen in no time. If you desire a true culinary transformation, rather than tear down the tired room and replace it with new cabinetry, refacing existing cabinetry is the most timely, affordable and permanent solution.

When you walk into your kitchen, what do you see? Up to 80% of the visible space in your kitchen is covered by cabinet doors and drawer fronts. Replacing each and every cabinet door and drawer now seems time consuming and costly--because it is! Refacing existing cabinetry can save you up to 50% the cost of a full cabinet replacement.

Replacing your cabinetry can take weeks, and you risk damage to the rest of you kitchen during the large demolition process. Most cabinet refacing projects are completed in as little as a week, and gets you back in your kitchen up to two weeks earlier.

And quality refacing will cost you less in the long run. If your existing cabinets are solid wood, they tend to be sturdier than typical stock cabinets on the market today, and are perfect to reface. Refacing solid wood cabinets is far less expensive than replacing your cabinetry with inexpensive stock cabinets, and will stand the test of time.

As an added bonus--refacing is also an environmentally responsible process. Refacing your existing cabinetry uses 75% less waste than replacing the cabinets, which allows you to waste less and save more.