Cabinetry can take up to eighty percent of the visible space in your kitchen, and can be one of the more costly investments during your remodeling process. While wood kitchen cabinets are sturdy, and contain a layer of finish for durability, it's important to take care of your cabinets to keep them looking new for as long as you have them.
Today's blog will provide you with some helpful hints for the proper cleaning and caring of your kitchen cabinets.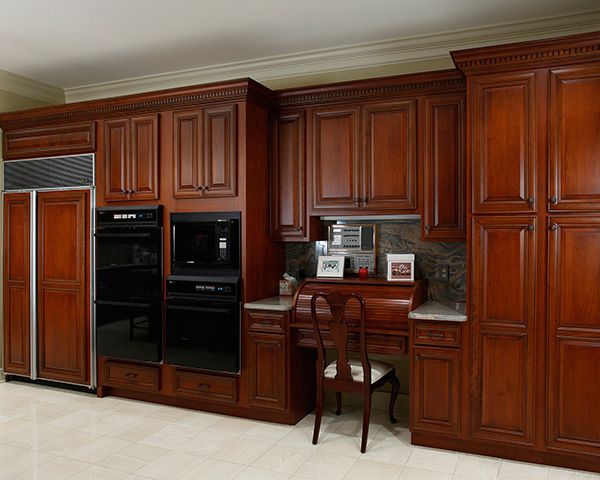 Be sure to avoid excessive moisture, which can cause warping and damage to any wood products. If you are storing your cabinetry before installation, be sure to store it in a cool, dry place, do not store them outside where your cabinets can be left to brave the weather.
Remember that temperature and humidity levels may differ in different rooms in your home, so if your cabinets are stored in a garage of basement, slight adjustments might be necessary before installation.
Any commercially available wood cleaning polish is fine to use on your cabinets. Wood polish will help protect your cabinets from damage and provide them with a nice shine.
Avoid using wax polishes, which can result in a wax film buildup that can damage your cabinetry's finish. Also avoid silicon polishes, which can also damage the finish and expose the wood underneath to dirt and grime.
Try an emulsion-type cleaner that won't harm your cabinetry's finish; we prefer natural wood polishes, like Murphy Oil Soap.
If some spaghetti sauce splatters onto your wooden cabinets, a damp cloth is perfect for cleaning common household spills. Simply wipe thoroughly, and dry the surface with a lint-free cotton cloth.
Maybe you've waited a few hours, and that spaghetti sauce has become a red glob that's now stuck on your cabinets. For stubborn stains, it's best to use a mild detergent with some water. Be sure to always rinse and dry the surface once you've removed the stain. Stay away from abrasive or powdered cleaners and scouring pads, as they can damage both the finish and wood underneath.