You can almost always reface cabinets that have already been refaced. The process is relatively the same.
"Can I Reface My Reface?" or "Tales of a Reface"
The process of refacing kitchen cabinets is fairly standard, which allows cabinets to be refaced again when the times, or your design tastes, have changed. It can also be a good way to reinforce cabinets that are older and may have experienced a little extra wear and tear - especially if you didn't hire Kitchen Magic to do your kitchen cabinet refacing job the first time.
There are exceptions to the repeat refacing rule:
Your cabinet structures are in pretty bad shape

You want to change the layout of your kitchen design

Your kitchen cabinets are made of metal
We will point out here, that although the refacing process is relatively similar between cabinet companies, there is only one company who uses an exclusive double-lamination process for extra reinforcement. Can you guess who they are? It's one of the many reasons why Kitchen Magic offers "lifetime home ownership" warranties with a clear conscience.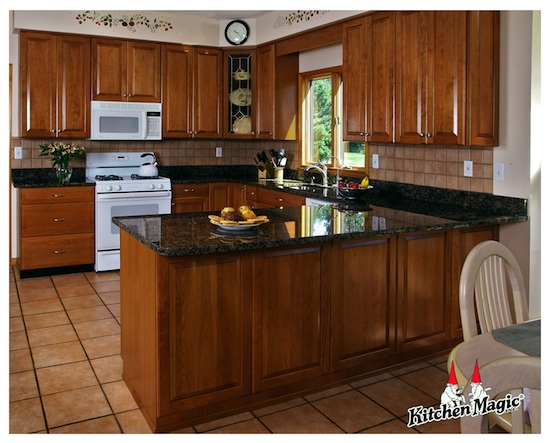 Why Reface Your Refaced Kitchen Cabinets?
Sometimes people are tired of their cabinets but figure they'll just buy pre-made cabinets to get the look they want without spending extra money on a kitchen remodel. Whoa there! We humbly request you reconsider for a moment:
Durability: While box-store pre-made cabinets might give you the look you want, we can almost guarantee they won't give you the function you want. They're usually made of particle board, which doesn't last long. Shelves collapse and drawer tracks fall apart. Kitchen Magic uses high-quality furniture-grade core which means your cabinets will last.

Reinforcement: Like we mentioned before, refacing your cabinets actually reinforces existing cabinet framework so you get the great new look you want, as well as added structural strength.

The Perfect Look. It's amazing how kitchen cabinet refacing can change the entire look of a kitchen. Take a look at what a difference cabinet refacing made in this kitchen. It is literally transformative.

Affordable. The best news of all is that cabinet refacing is only about half the price of buying whole new cabinets. While you may not save quite as much money as you would buying pre-fab cabs, we guarantee the slight price increase will be well worth your money!
Whether you choose laminate or wood, or prefer to paint them a specific color, refacing options are nearly endless. So go ahead and reface that reface. You won't regret it.