What's a kitchen cabinet but a place to house some dishware, right?
While that might've been the case before, the expression "The Kitchen is the Heart of the Home" has never been more true than in today's homes. Kitchen cabinet designs are a primary kitchen design element.
The kitchen used to be a separate room, hidden from guests. Now, kitchens are a part of an open floor-plan and customers care more than ever about what their kitchens say about them. That's right, your kitchen cabinet designs are going to be a part of telling the world, "We are ultra-modern and chic chic chic!" or "I wanted to create my grandma's country kitchen because all my best memories are there."
Need some inspiration selecting kitchen cabinet colors or kitchen cabinet styles? Check out, Our 5 Most Popular Kitchen Cabinet Colors and Our Top 5 Kitchen Cabinet Door Styles.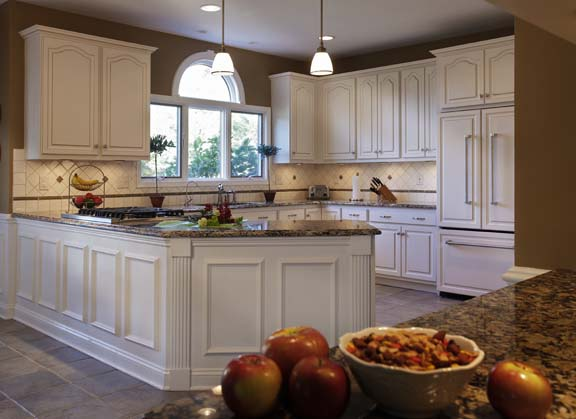 5 Most Popular Kitchen Cabinet Designs: Color Style Combinations
While a color or style can make a statement alone, one always has an affect on the other.
1. Frosty White on Prestige Square - This look can lend a contemporary feel due to the square edges and bright white finish. But paired with soft colors and traditional decor, it will complete a modern country kitchen look as well. White is always a good choice to brighten up small spaces.
2. Classic Cherry w/Black Glaze on Vintage Raised Panels - This combination creates a luxurious high-end statement no matter what it goes with. We sense granite or Zodiaq as potential countertop surfaces...
3. Antique White w/Walnut Glaze on Breckenridge Square - This goes back to the Grandma's homey kitchen memories, but adds an upscale twist. Mmmm....smells like coffee and a hint of cinnamon to us!
4. Classic Cherry on Prestige Square - If you hadn't noticed the versatility of Prestige Square, you will soon. A Classic Cherry finish is always an upscale choice and looks best with dark or stainless steel appliances.
5. Secret on Prestige Square - This combo is versatility. It's a great option if you like a clean and simple aesthetic or plan to remodel in the future and want cabinets that are easy to work around.
These suggestions have been tried-and-true selections throughout the many years we've been in business. This tells us our customers are thoroughly satisfied, and these selections help to maintain the resale value of their homes.
Come in and let us help you design the kitchen of your dreams. Better yet, we can bring the showroom to you. Call (855) 573-3223 to schedule and hour of expert advice from one of our consultants in the comfort of your own home.