I'd been thinking about updating my kitchen for years before I decided to take the plunge and do it. I already knew what I wanted to do and how much I could afford to spend, so I began researching the possibilities. Hardwood or travertine? (Travertine!) Granite or concrete? (Granite!)
My plans were quickly reaching my budget, and I hadn't even started planning my new cabinets. I worried I wouldn't be able to have the look I really wanted, or that I'd end up paying much more than I could afford. That's when I started to look into cabinet refacing--and I loved what I found.
Cabinet refacing costs were well within my budget. I was so excited to learn that the look I wanted was within my reach! The affordability gave me room to play and be creative, allowing me to make the choices I really wanted--the granite, travertine and that upgraded stove I'd been eying.
I didn't really want to change the layout of my kitchen. (From my research, most homeowners don't.) Since I still liked the placement of my cabinets, cabinet refacing was the perfect option. I didn't have to go to all the time and expense of gutting my existing cabinets, and didn't have to worry about dumping them in a landfill. I try to be as green as I can, and there wasn't anything wrong with my cabinets, so it would have been a shame to see them taking up landfill space.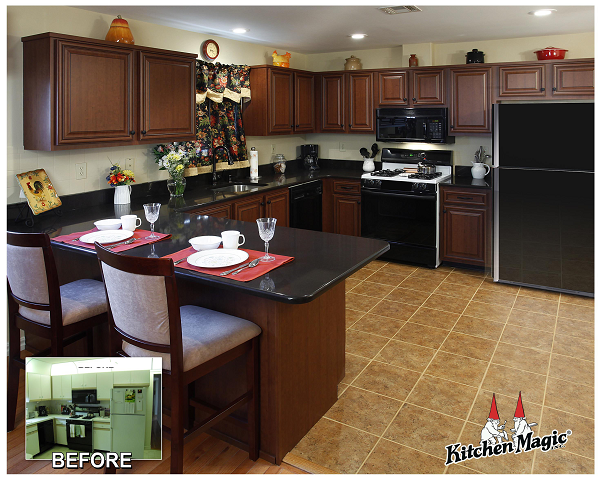 Regarding look, the variety of choices I had impressed me. I had over 300 styles to choose from! Many different colors and surfaces were available, including resin-core laminate and beautiful solid wood options. I needed to go with something resistant to heat, warping and scratching--a must have in the kitchen when my family decides to cook.
The doors on my cabinets and drawers were completely replaced, and all the visible surfaces in my cabinets were covered with a thin wood substrate, so I didn't lose precious storage space. My chosen cabinet material was permanently adhered to all the visible exteriors of the cabinets. I also had my kitchen drawers updated with smooth, custom tracks.
To top it all off, gorgeous, practical cabinet hardware was included with my project--all new handles, knobs and hinges. This made my cabinet refacing costs even more affordable, and gave the perfect finishing touch to my new kitchen. I even chose a beautiful backsplash to complement my new countertops and cabinets, which I may not have been able to afford if not for the low cabinet refacing costs.
I'd been worried about how long the project would take. Was it true that kitchen remodeling could take more than six weeks? That was a long time to be without my kitchen! But my cabinets were refaced in just under five days. And I had thought I couldn't be any more impressed!
Having cabinet refacing done actually bolstered the strength of my existing cabinets, so they'll last for years to come. And the costs were so practical that I was able to have the kitchen I'd always wanted. I didn't have to sacrifice my vision for my budget.

I love working in my new kitchen (and showing it off to my friends!) It gives me a sense of luxury and practicality. I recommend refacing to all my friends planning to update their kitchens. It's affordable, environmental and beautiful.